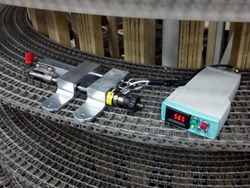 "With Tug Tester, plants can monitor their belts and perform necessary maintenance to keep their systems running hassle free." -- Bob Maine, Cambridge Engineered Solutions Director of Engineering
Cambridge, Maryland (PRWEB) July 09, 2015
Cambridge Engineered Solutions has introduced a proprietary measuring system called Tug Tester to help customers obtain accurate tension readings on turn and spiral cage conveyor belts commonly used during the cooling and freezing stages of bakery and food processing.
The system, which uploads data and tracks changes on a PC, is available for purchase to provide daily plant monitoring. Cambridge representatives will also visit bakeries and food processing plants to demonstrate Tug Tester and administer an initial test at no charge.
"Over tensioning of turn and spiral cage belts can result in catastrophic failures that lead to significant downtime and losses," said Bob Maine, Cambridge Director of Engineering. "With Tug Tester, plants can monitor their belts and perform necessary maintenance to keep their systems running hassle free."
Tug Tester measures tangential tension by tier as belts cycle through systems. It can be used on various belt loads up to 1,000 lbs. with measurements provided every two seconds for up to 20 hours at -10F. Tug Tester is approved for use at operating temperatures from -40F to 120F.
Sold as a multi-component system, Tug Tester includes a belt loading mechanism, rechargeable lithium ion battery and charger, software discs and necessary pins, adaptors and cables. Each unit includes a manual and carrying case.
It is compatible with PC Pentium® class systems using Windows XP/Vista/Windows 7 (32 and 64 bit) and Windows 8. Tug Tester software also allows users to produce graphs for review and analysis.
About Cambridge Engineered Solutions
A division of Cambridge International, Cambridge is the world's largest metal conveyor belt manufacturer and a global leader in filtration screens. For more than a century, Cambridge has developed dynamic solutions, revolutionizing industry automation and plant operations. With more than 15 exclusive product lines and over 50 patents, our team of dedicated engineers and experts continually devise new methods to make lines run smoother, faster and handle more product weight. For information visit http://www.cambridge-es.com.