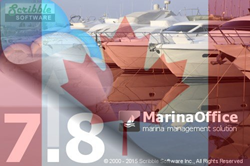 "We have been using MarinaOffice at our marina and point-of-sale for many years," says Margie Williams (Deep Cove Marina). "Now that we have been upgraded to the new Canadian version 7.8, we find that it fulfils all our needs with ease and efficiency."
Mechanicsville, Virginia (PRWEB) July 09, 2015
Scribble Software Inc., a leading provider of business management solutions for the marina industry, announces the Canadian release of MarinaOffice 7.8, the most advanced and powerful version of the popular MarinaOffice Suite of Solutions released to date. Used by thousands, the MarinaOffice Suite of Solutions is a leading and proven management solution for marinas and boat yards of all sizes.
Built on the powerful and modernized .NET and SQL Server platform, the latest MarinaOffice version 7.8 has completed its beta testing period in the Canadian region and is now released for distribution to all Canadian customers. This latest release brings the MarinaOffice Canadian version up to the same level as the US version providing a universal, "across the board" solution for all regions.
"We are very pleased to be releasing the new Canadian version of MarinaOffice 7.8 into production," says Vance Young, Director of Technology at Scribble Software Inc. "This release provides our Canadian customer base with the same solutions and options as our US customers with no delay in development."
Previously the Canadian versions of MarinaOffice were developed as a separate product and development timeline due to the differences in the accounting and tax structures. The down side to this approach is that every release of the Canadian version typically followed the general release of every new US version. This new Canadian version of MarinaOffice 7.8 now eliminates this problem by being merged with the US version. The all new combined version is now advanced enough to intelligently determine the accounting platform used by each operator and automatically switch to the appropriate accounting and tax user interface. This automatic intelligence removes the burden of MarinaOffice users having to manually configure the appropriate accounting and tax platform.
"We have been using the Canadian version of MarinaOffice at our marina and point-of-sale for many years," says Margie Williams of Deep Cove Marina. "Now that we have been upgraded to the all-new Canadian version 7.8, we find that it fulfils all our needs for managing our long-term moorage customers, our point-of-sale store, and our gas sales with ease and efficiency."
The new MarinaOffice version 7.8 enhances the already popular management solution that experienced an explosive growth of users within the last couple of years with the introduction of a modern architectural platform and enhanced user interface. Enhancements and improvements included in the new 7.8 version encompass nearly all modules of the solution including enhanced user process flows, enhanced work order and service scheduling, enhanced reporting, improved cloud platform extensions with one-step paperless billing, online payment processing, wireless vessel monitoring, mobile phone apps and extensions providing customer collaboration. MarinaOffice 7.8 continues with the modernization road map by providing a network of modern solutions interconnecting the roles of the business back office with the empowerment of the consumer and boat owner. In addition, version 7.8 also includes a new kitchen order management platform for properties with on-site restaurants and food service operations, as well as expanded use of mobile phone and web apps in providing enhanced user and consumer based solutions.
The MarinaOffice Suite of Solutions continues to drive the marina industry forward with cutting edge solutions for traditional networked, cloud, and mobile platforms.
About Scribble Software Inc.
Scribble Software Inc. is a technological solution provider for several business industries and is located in Mechanicsville, Virginia. Scribble Software produces and markets the MarinaOffice Suite of Solutions, a leading marina management software solution used throughout the globe. Scribble has risen as a leader in providing management solutions for the marina industry with the focus on providing solutions for all areas and departments of marinas. Scribble Software takes great pride in developing end to end enterprise level solutions backed by a support team second to none.
Contact
Tonia Stevens, Account Manager
8052 Elm Dr., Unit K
Office: 804-427-8100
Email: sales(at)posscribble.com
http://www.scribblesoftware.com
http://www.marinaoffice.net
http://www.meetmariah.com
###