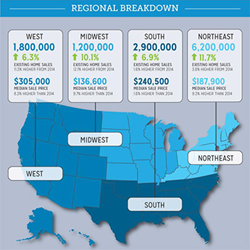 San Diego, CA (PRWEB) July 09, 2015
Than Merrill, star of A&E's Flip this House and CEO of the real estate education company FortuneBuilders, has compiled market data for a new infographic that demonstrates rising home sales, a reduction in distressed properties, and impressive appreciation trends. Of particular importance, however, is the progress that has been made since the onset of the Great Recession.
Than's latest compilation of real estate statistics highlights a variety of progressive trends that appear to be sustainable. The U.S. housing market looks to have finally gained the momentum it so desperately needed. Every region, from the West to the Northeast, has seen an increase in both existing home sales and median sales prices. Every stat on Than's latest infographic suggests that today's market is ready to take the recovery and run with it.
Some of the key highlights of Merrill's 2015 Real Estate Rundown infographic include:

A 10.4% increase in total existing-home sales.
A 5.7% increase in the median price.
A reduction in distressed sales, dropping from 14% to 10% of all home sales.
40% of all homes are sold within 30 days.
The average price is up 28.2% in the past 3 years.
Than Merrill is thrilled with the progress U.S. real estate has made in such a short period of time. He even commented on these statistics saying, "The real estate market continues to rebound across the country and we've experienced 37 consecutive months of year-over-year price gains."
The 2015 Real Estate Rundown infographic is available for download and sharing at Than Merrill's web site: http://www.thanmerrill.com/fortunebuilders-2015-real-estate-trends
About Than Merrill & FortuneBuilders
FortuneBuilders Inc. is a premier real estate education company headquartered in San Diego, CA. FortuneBuilders educates and coaches real estate investors through its proven and systemized processes, and champion attitude. Learn more about FortuneBuilders at http://www.fortunebuilders.com and connect with Than Merrill at http://www.thanmerrill.com.