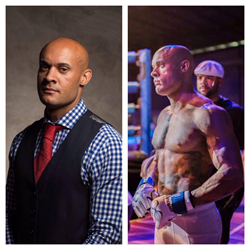 "We see classy, sophisticated events like this with boxing and in other countries, but that type of environment hasn't made its way stateside for MMA - until now." - Steve Orosco
San Diego, California (PRWEB) July 14, 2015
Smash Global's inaugural gala, The Main Event, will be presented at San Diego's esteemed Hard Rock Hotel Saturday, Aug. 1, for an evening of professional mixed martial arts (MMA) and black tie networking. The event serves as the first luxury showcase of MMA in U.S. history.
Using California State Athletic Commission-sanctioned MMA as its backdrop, The Main Event convenes society's elite with business leaders from the Greater San Diego region and abroad, setting the scene for an evening of networking, entertainment, and grandeur.
"MMA is the most entertaining sport in the world, but it needs society's top 1 percent to buy in and experience a live event to really get over the tipping point in this country," said Smash Global founder Steve Orosco. "We see classy, sophisticated events like this with boxing and in other countries, but that type of environment hasn't made its way stateside for MMA - until now."
"With The Main Event, we've created a setting where business professionals, socialites and the fighters themselves can flourish."
After years in the cage, Orosco identified an opportunity to raise the level of business in the sport by creating entertainment events for premium brands.
Along with the five-fight card featuring former Ultimate Fighting Championship (UFC) Fighter Jesse "JT Money" Taylor and the undefeated Nick Barnes, The Main Event boasts an art exhibition from Molotov Gallery's Marc Sandoval and a silent auction, which will benefit Urban Angels, a nonprofit organization formed to nourish and provide food for the homeless of San Diego.
"Smash Global is based on three core principles: networking, community outreach, and MMA as the platform for entertainment" Orosco said. "We're committed to bringing the community's elite together with MMA, and we look forward to giving back to serve those most at-need."
Tickets to the event are limited to only 360 patrons. Premium Smash Seating is available for corporate sponsors. Guests must be 21 years or older to attend.
To learn more about the event, the fighters and seating opportunities, visit http://smash.global, or contact Sales@Smash.Global.
About Smash Global
Founded by professional fighter and entrepreneur Steve Orosco, Smash Global produces luxury entertainment events for premium brands that showcase professional MMA fighters, creating the most exciting black tie networking events in the world.
Using professional mixed martial arts as its backdrop, Smash Global delivers a unique event that is one part sporting entertainment, one part networking, and all parts class and sophistication. Learn more at http://smash.global.
About Steve Orosco
Steve Orosco, MBA, MS, is the Founder of Smash Global, LLC and a professional MMA fighter. With both an MBA and an MS from Albertus Magnus College and extensive professional fighting experience, Orosco is uniquely equipped to lead and manage a mixed martial arts (MMA) events organization. Connect with Steve Orosco on LinkedIn.