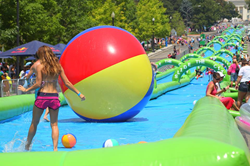 Get ready for the slide of your life!
(PRWEB UK) 10 July 2015
The cities of Manchester and Leeds will get a slippery makeover as Slide the City brings its massive water slip and slide to Heaton Park on the weekends of 18th July, and Roundhay Park on 25th July. Turning hills into water-sliding thrills is the goal of the event, which was created in an effort to get people outside, having fun, and connecting with their community. Registration is now open.
"We spend so much time walking, running, or driving around our cities," said event coordinator TR Gourley. "But how many times have you been able to say you slid in your city?"
Participants in Slide the City will ride inflatables on a padded slip and slide. The length varies, depending on the venue. This one-of-a-kind experience will help people "slide into summer."
Along with the giant slip and slide, participants can enjoy food, music, and an all-around good time. "This should be one of the highlights of your year," said Gourley. "Get ready for the slide of your life!"
Each rider can purchase a pass to suit with many new ticket options available on the website. Be among the first to register and receive free swag. New event locations will be opened on the site. With over 150 events worldwide, slip and slide enthusiasts are sure to find a Slide the City event nearby.
Visit http://slidethecityuk.co.uk to check out some of the changes we've made to the ticket options, and to find Slide the City dates and locations, or checkout our Facebook at https://www.facebook.com/slidethecityuk.