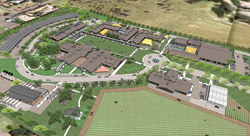 The Brick, Bench, or Tree Naming Campaign is a great way for everyone in our community to help do our part with each nominal tax deductible donation.
San Diego, CA (PRWEB) July 09, 2015
TERI Inc, a nonprofit organization helping children and adults with special needs, has launched a campaign to help fund the build of their new Campus of Life in San Marcos. The campaign offers contributors a legacy naming opportunity in the form of a bench, live oak tree, live fruit tree, live olive tree, or a brick.
The first facility of its kind, the Campus of Life will be a true center of excellence in the education and empowerment of individuals with developmental disabilities. Set on 20 acres in San Diego County, the campus will provide an inspired and therapeutic environment for individuals with autism and other developmental disabilities. The new campus will be home to many of their educational centers including: the Lifespan Institute, Kilmer College, Learning Academy, and the Child Development Center.
TERI Inc. has formed a partnership with the Military's Innovative Readiness Training (IRT) program to build their new campus and officially launch the largest campaign to date undertaken by the IRT. The IRT's commitment to TERI includes skilled labor and equipment to train and build the campus. In order to complete construction of the entire campus, 111,000 square feet on 20 acres, TERI will also rely on donations from individuals, the community, corporations, and foundations for their $30 million project. The project has already begun and is looking to be completed in 2017.
The Control Group has been a major supporter of TERI Inc. and the Director of Communications for The Control Group, Sean Shahrokhi, is an active member of the TERI Capital Committee. "Our gift in kind that provided TERI Inc. with their new corporate website is just the first step in helping TERI reach the goal of funding and completing efforts on the Campus of Life project that will act as a global model for similar facilities all dedicated to the common cause of helping those with special needs find purpose and support in an all encompassing program geared for all levels of capability, regardless of age and severity of condition," said Sean Shahrokhi. "The Brick, Bench, or Tree Naming Campaign is a great way for everyone in our community to help do our part with each nominal tax deductible donation. $500 is an extremely low entry point to be a part of something huge that will make a difference for generations to come."
In hopes of raising the needed capital to help see this effort through to fruition, TERI is reaching out to provide businesses, organizations, and anyone else with a heart and a few dollars to spare the opportunity to be a part of this legacy by honoring whomever they wish with their donation. Donations will range from $500 to sponsor a Brick Naming Opportunity up to $5K to sponsor a Live Oak Tree. Any of the five donation options provide the opportunity for custom text to commemorate the generous contribution or potentially pay tribute to a special person to be immortalized for years to come as a part of the magic that is TERI's Campus of Life.
To learn more about TERI Inc., please visit their website. To donate to the Legacy Naming Campaign, click here.
About The Control Group
Created in 2011, The Control Group is one of the fastest-growing technology companies headquartered in San Diego. Their expertise is in web development and internet marketing. The company is the developer of InstantCheckmate.com, one of the top people search engines in the world. Because the company is already profitable, it has been able to develop a company culture that is shaking up the Southern California business community. Core to the company culture is its reach into the community to make a positive impact by volunteering and getting involved in important causes.
About Training, Education, Research & Innovation (TERI, Inc.)
Founded in 1980, TERI, Inc. is a private, non‐profit 501 (c)(3) California corporation. Its mission is to improve the quality of life for children and adults with developmental disabilities and learning disabilities, specializing in serving individuals who have needs which cannot be met by other existing programs. TERI looks to the future by continuing its commitment to set new standards through establishing model programs, conducting applied research in best practices and procedures and offering training and consultation to professionals, families, and community members. Recognized as a model program in the State of California for the quality of services it provides to its clients, TERI relies on donations from the community and foundations in order to continue to set the highest standards and ensure an uncompromised quality of life to its population. For more information, visit teriinc.org.