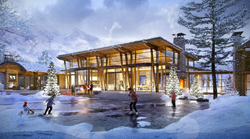 We enter every project for the long term. We do this with confidence because we know we will have the same key people working on that particular project until completion.
Aspen, Colorado (PRWEB) July 09, 2015
Structural Associates Company, a premier custom home building contractor in the world-class ski resorts of Aspen/Snowmass, Vail, and Steamboat Springs, Colorado, has announced a completion date in late fall for the distinctive K2 Ranch designed by Charles Cunniffe Architects. Located just above the valley floor and adjacent to the Buttermilk ski mountain, this majestic estate is now receiving its finishing touches.
"Construction in resort communities is a variable business and the work force can be very transient. At Structural Associates, however, the average experience in the construction industry is over 25 years, with many of SA's employees having a tenure of over 18 years," said SA co-founder Shane Evans. "This longevity greatly contributes in the management and completion of complex custom builds."
When it comes to building a dream home in destinations like Aspen, Vail and Steamboat Springs, Colorado, projects can be in a constant state of evolution. While every reputable builder will strive to be flexible and accommodating, what has worked well for SA is the level of commitment that carries over to the management teams and down to the crews on every job site. "We enter every project for the long term. We do this with confidence because we know we will have the same key people working on that particular project until completion," said Evans. "After construction, we can continue working with those clients through our maintenance programs for the life of the structure. We have clients for whom we have built homes, then been asked to renovate that same home decades later. In most cases, it has been the same managers and crews returning for the renovation of the project."
K2 owners have offered this testimonial: "It was not without trepidation that we approached the idea of building a home in a location far away from our daily lives. The questions of how to stay connected and involved with the project and make decisions was very much on our minds. You and your team's extensive experience with 'remote owners' was obvious from the start. The incredible organizational and communication skills and clarity of schedule as well as the clear explanations throughout the process have enabled us to rest easy each night knowing that Structural Associates was running the project. You and your team have been enormously welcoming of our active involvement in the process (while not requiring it) and have given us great visibility into key decision deadlines that have enabled us to be on schedule despite such a long schedule plan from the start. Needless to say, we have been blown away with the build quality! As we approach the last lap, I wanted to let you know how pleased we are with the very custom home that you have helped us create. Obviously, I would recommend you with the highest of praise to anyone."
K2 Ranch is a majestic and unique home, and will never be replicated. From the architecture, design and engineering to the craftsmanship devoted to coaxing out a masterpiece of this caliber, this home will be one of the homes consistently featured in Aspen's echelon of stunning works of art.
About Structural Associates
Structural Associates is a premier builder with offices located in Glenwood Springs, Colorado. With a primary focus on high-end custom residential, they have been creating projects located in Aspen, Snowmass, Vail, and Steamboat Springs spanning the last 33+ years. While the aesthetic of the product they build has varied from traditional to extremely modern homes, they are able to achieve a consistency across these different genres through a scalable methodology and detailed process. As a highly adaptable company, they have been constructing extraordinary living spaces, ranches and commercial properties since 1982 and offer extensive maintenance services for the life of the buildings. This is performed while maintaining an adherence to schedule, respect for the client's budget, and ensuring that that optimal value is achieved. They are at the leading edge of sustainable technologies and building science. Structural Associates is a member of the U.S. Green Building Council, National Association of Homebuilders (NAHB), and a proud professional affiliate of AIA Colorado.
Media contact:
Sabra Wiethoff
Structural Associates Company
4185 County Road 154
Glenwood Springs, CO 81601
970.945.0147
sabra(at)structuralassoc(dot)com
http://www.structuralassoc.com