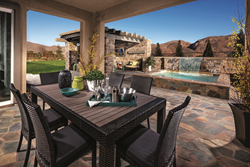 Toll Lifestyle TV offers viewers and home shoppers a behind-the-scenes look at life in a Toll Brothers community
Horsham, PA (PRWEB) July 09, 2015
Toll Brothers, the nation's leading builder of luxury homes, today announced the much-anticipated debut of Season Two of Toll Lifestyle TV, the luxury home builder's glamour-filled online lifestyle video channel. Set against a backdrop of spectacular vistas and dazzling interiors, each episode offers viewers an exclusive glimpse into the homes and hearts of the families that make up the brand's iconic lifestyle. From cascading infinity pools to fire pits to Ferraris, viewers of Toll Lifestyle TV are given entrée into a world of their dreams.
Season Two of Toll Lifestyle TV puts the spotlight on the brand's award-winning indoor/outdoor home designs. Sliding glass walls seamlessly integrate indoor and outdoor living spaces, setting the stage for cocktail parties, sprawling sunsets, and family gatherings by the pool. The homes are breathtaking, but it is the homeowners and their emotional stories of family, friends, and even a new puppy that bring the series to life. In every episode, Toll Brothers homeowners open up about the unique rewards of life in a Toll Brothers community, with stories that tug at the heartstrings.
The ambitious Toll Lifestyle TV lineup of programming offers something for everyone with an eye for luxury, including cooking segments that put the brand's stunning kitchens to their best use; and interior design tips on kitchens, baths, and award-winning landscaped backyards. Toll Brothers' longtime partner Kohler® is also prominently featured this season, with insights into the latest trends in dual kitchen islands, standalone tubs, and water conservation.
Filmed exclusively at Toll Brothers communities across the country from Palm Springs to Pennsylvania, Toll Lifestyle TV is the home building industry's only premier online video channel. The brand's pioneering use of video has garnered praise from home buyers, builders, and Wall Street sector analysts.
"Toll Lifestyle TV offers viewers and home shoppers a behind-the-scenes look at life in a Toll Brothers community," said Kira Sterling, Chief Marketing Officer. "And this is an excellent time to check out the new episodes, and then visit any Toll Brothers neighborhood. From July 11 to July 26 we're celebrating summer with Toll Brothers' National Sales Event, which gives buyers the chance to get much more for their money with special savings and incentives," she added.
To view the Toll Lifestyle TV stories visit TollLifestyleTV.com. The website provides visitors with a wealth of opportunities to explore content across multiple social media platforms. Recipes, blog posts, in-depth information on communities featured in videos, and more provide a rich multimedia experience for prospective home buyers.
Toll Brothers has set the standard for integrity, value, timeless design, and exceptionally high quality, and is considered one of the smartest and best-managed companies anywhere. Although Toll Brothers is probably best known for its expansive single-family and estate homes, the luxury builder offers an amazingly wide range of home designs including condominiums, carriage homes, and townhomes; and a vast palette of community types – such as active adult through its Toll Brothers Active Living® brand, resort, and urban through its Toll Brothers City Living® brand.
Toll Brothers, an award-winning Fortune 1000 company founded in 1967, embraces an unwavering commitment to quality and customer service. Toll Brothers is currently building nationwide and is a publicly owned company whose stock is listed on the New York Stock Exchange (NYSE:TOL). The Company was honored as one of the World's Most Admired Companies 2015 by Fortune magazine, ranking #1 in the Homebuilding Industry and first in People Management, Use of Corporate Assets, Quality of Management, and Long-Term Investment Value. The Company was named America's Most Trusted Home Builder™ 2015* by Lifestory Research, receiving the highest numerical score among the largest 133 home builders in the country in a study that measures, among other things, perceptions of quality, price, reputation, and trust. Toll Brothers was also recently named national Builder of the Year by BUILDER magazine, and was twice named national Builder of the Year by Professional Builder magazine.
Toll Brothers proudly supports the communities in which it builds; among other philanthropic pursuits, the Company now sponsors the Toll Brothers - Metropolitan Opera International Radio Network, bringing opera to neighborhoods throughout the world.
Toll Brothers builds luxury single-family detached and attached home communities; master planned luxury residential, resort-style golf communities; and urban low-, mid-, and high-rise communities, principally on land it develops and improves. The Company operates its own architectural, engineering, mortgage, title, land development and land sale, golf course development and management, home security, and landscape subsidiaries. The Company also operates its own lumber distribution, and house component assembly and manufacturing operations. The Company acquires and develops commercial properties through Toll Commercial and its affiliate, Toll Brothers Realty Trust, and purchases distressed loan and real estate asset portfolios through its wholly owned subsidiary, Gibraltar Capital and Asset Management. The Company acquires and develops commercial and apartment properties through Toll Commercial and Toll Apartment Living, and the affiliated Toll Brothers Realty Trust, and develops urban low-, mid-, and high-rise for-sale condominiums through Toll Brothers City Living.
This is not an offering where prohibited by law.
*Toll Brothers received the highest numerical score in the United States in the proprietary Lifestory Research 2015 America's Most Trusted™ Home Builder study. Study based on 43,200 new home shoppers in 27 markets. Proprietary study results are based on experiences and perceptions of consumers surveyed between January and December 2014.