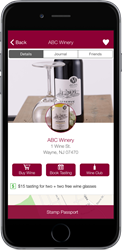 Direct-to-consumer wine sales is a $2 billion industry.
WAYNE, NJ (PRWEB) July 09, 2015
Winery Passport, the top iPhone and Android app for discovering wineries across the U.S. and Canada, launched the wine industry's first direct-to-consumer mobile lead generation technology on Thursday. This feature will help wineries increase DTC wine sales, tasting room appointments and wine club memberships.
Winery Passport users on iPhone and iPod touch will notice "Buy Wine," "Book Tasting" and "Wine Club" buttons on each of the 5,000+ winery listings in the app. Once a request is made, Winery Passport will contact the winery, which will have the option to purchase the lead for a small referral fee. Wineries with upgraded paid status, however, will receive unlimited complimentary leads. Wineries are encouraged to make sure current email addresses are on file with Winery Passport in order to receive leads.
"We remain poised to refine our mobile marketing technology to help wineries grow their direct-to-consumer revenue," said Winery Passport creator Scott Stanchak. "The world is increasingly going mobile and we've worked hard to create a product that capitalizes on this massive audience to benefit the wine industry."
According to ShipCompliant, direct-to-consumer accounts for nearly $2 billion in wine sales in the U.S. With recent comScore and Nielsen studies showing as much as 90% of mobile usage taking place in app, Winery Passport is the only way consumers will ever discover many wineries.
"This lead technology provides wineries an opportunity to obtain valuable customer information from someone explicitly interested in their brand," said Stanchak. "This is true even for wineries that don't offer a wine club, wine sales or accept tasting appointments."
Winery Passport's goal has been to drive consumers to tasting rooms, while also helping wineries monetize that traffic post-visit. Leads compliment the app's growing list of mobile marketing tools for its Recommended Winery partners, including the ability to message all users who stamp at their winery or have it on a wish list. This helps wineries fill the gap where only 23% of consumers who enter a tasting room ever leave an email address.
"It's been important to narrow the focus to challenge areas wineries have in generating revenue," said Stanchak. "Winery Passport not only helps solve those pain points, which include mobile and DTC, but is also an extremely valuable resource for the users themselves."
Winery Passport has been featured in "Forbes," "Wine-Searcher" and "Drink Me Magazine."
Download Winery Passport: http://www.winerypassportapp.com/download
About Winery Passport:
Winery Passport is the top mobile app for discovering wineries and recording and sharing tasting experiences. For wineries, our marketing technology helps increase tasting room traffic and improve direct-to-consumer revenue. Claim your winery's free listing today, or ask us how to become a Recommended Winery. Winery Passport is available on iOS and Android. More information: http://www.WineryPassportApp.com