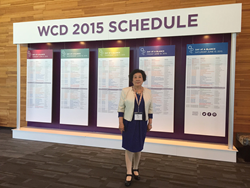 (PRWEB) July 15, 2015
The 23rd international World Conference of Dermatology (WCD) successfully concluded in Vancouver, Canada, on June 13th, 2015. The director of Huahai Vitiligo Hospital, Cheng Aihua, attended the dermatology conference and delivered a keynote speech on the new technological advancements in vitiligo treatments.
The technology of "black and white cured together" from Huahai Vitiligo Hospital has gained the recognition of the World Health Organization and leading experts for its secure, systematic, and scientific research and for providing services in 118 countries around the world, making it a dazzling star at the conference.
The World Conference of Dermatology (WCD) is one of the world's most influential, oldest, and largest academic events of dermatology. It is held once every four years by the International League of Dermatological Studies (ILDS). ILDS is one of the World Health Organization's international dermatology groups and it is referred to as the "United Nations" of dermatology. At present, a total of 102 countries and dermatological institutes are members of ILDS. The World Conference of Dermatology is held once every four years and brings together the recognized experts in the field of global skin diseases in order to provide a platform for global dermatologists, scientists, and institutions to discuss the latest comprehensive, in-depth studies, treatments, and advancements in the field of dermatology. The meeting is also known as the "Olympic Games" amongst the dermatologist community.
At the conference, Cheng Aihua was interviewed by the International Skin Disease Association's executive committee secretary and Dr. Kathleen Remy, president of the Canadian Skin Patient Alliance. Aihua discussed the latest progress in Huahai Hospital's scientific research and clinical technology, having connections with the skin disease experts and public health officials of more than 10 countries, including India, Canada, and the United States. During the conference, Cheng Aihua was also invited to deliver a speech on traditional Chinese medicine and the method of "black and white cured together" to treat vitiligo. Using incisive scientific theory to explain the vitiligo treatment and showcasing various difficult cases fully recovered from vitiligo, Aihua brought a scientifically stimulating presentation to the World Conference of Dermatology.
Huahai Vitiligo Hospital, as an exceptional institution of dermatological research and technological advancement, has always closely followed international industry standards. Additionally, Chinese medicine is beginning to gain recognition and authority in the international medical community. Huahai Vitiligo Hospital also took part in the Asia-Europe Meeting (ASEM) and gained access to Belarus and the country's leaders, becoming China's "national business card" in the field of traditional Chinese medicine. Through in-depth exchanges at the current world conference on skin diseases, and for further identification of the "black and white word" brand in the global industry, Huahai Vitiligo Hospital will make many new contributions to traditional Chinese medicine and to the world.