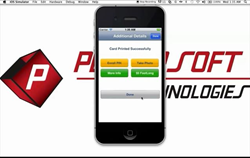 We are focused on products that provide immediate, realizable value for our clients.
Las Vegas, NV (PRWEB) July 09, 2015
Playersoft Technologies will take part in the Casino Marketing and Technology Conference July 14th-16th, 2015. The Marketing and Technology Conference to be held at the Rio Hotel & Casino is one of the industry's premier conferences and will afford Playersoft the opportunity to present its unique mobile player-tracking platforms for the gaming and hospitality industry. Playersoft has increased its reputation by the successful deployment of user-friendly, mobile, applications on Apple IOS devices.
Playersoft products augment the existing casino management and player tracking systems for the casino, with a focus on increasing guest loyalty and revenue. "We've received great response for each of our individual products," says Playersoft President, Tony de Leon. "But it's when clients see the entire suite of products working together and integrating seamlessly with their current casino management system that they see the real potential of mobile platforms in their operations."
Playersoft's award winning Mobile Enrollment system began helping casino operators build player loyalty in 2011 and was awarded Gaming and Leisure's CIO Roundtable Platinum award for most innovative product of the year in 2012. Since then, the San Diego based company has continued to add new modules to its suite of products using Apple's iPhone and iPod Touch technology.
"Our company is focused on providing solutions that provide immediate, realizable value for our clients," says de Leon. "The results expand employee productivity, improves data collection and most importantly, creates greater customer service and player loyalty."
The Playersoft suite of products can be viewed at the Conference, booth #213, July 14 – 15th.
About Playersoft:
PlayerSoft makes software products for the casino and hospitality industry. Our products are the outcome of years of firsthand experience dealing with software and technology products previously offered in the casino industry. At Playersoft we see an opportunity to fulfill what other vendors cannot, and that is excellent service to the customer and the casino. We create technology that works to fill a unique niche in the industry combining fulfillment of needs previously neglected and customer service previously not offered, setting them apart from other products. Our products are simple, innovative, and effective making them easy to implement and easy to use to your benefit. We try to take fewer steps and add more functionality whilst still emphasizing simplicity and innovation creating a smooth operating environment. Our products can always fit your casino and will always show improvements to your business.
###