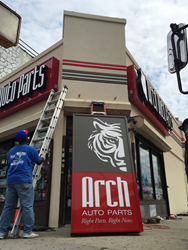 Whether an expert mechanic or first-time auto parts shopper, Arch makes sure each customer gets parts that will fit their vehicle exactly.
Hollis, NY (PRWEB) July 09, 2015
Arch Auto Parts, a leading aftermarket auto parts supplier in Brooklyn, Queens and Long Island announces they have completed a major rebranding initiative for Arch Auto Parts, 234-02 Merrick Blvd, Queens, NY, 11422. The store has been completely renovated on the exterior and interior, featuring the new, bright red Arch Auto Parts logo signs, to better serve both retail parts shoppers and professional service technicians.
With some of the most experienced countermen in the business, customers line up at Arch Auto Parts because they know they will find a counterman who has the expertise, and will take the time, to help them identify the parts needed for their exact vehicle. 95% of customers find the replacement parts they need at Arch.
Arch Auto Parts carries the national brands that professionals and DIY mechanics trust, including Akebono, Bosch, Gates, Denso, Raybestos, Gabriel, MPA, Standard, Exide, TRW, Timken and NGK parts. Retail customers will also find many hard-to-find parts typically sold only at dealers, at discounts of 50 to 80 percent off dealer prices.
"Our bright new storefront will help retail customers discover what expert mechanics have long known. Arch carries an exceptionally deep inventory of national brand, OE-quality parts, so most customers find the parts they need at their closest Arch store," says Chris Bodh, CEO of Arch Auto Parts. "Whether it's an expert mechanic or a first-time parts shopper buying for their brother-in-law to install, Arch makes sure each customer gets the parts that will fit their vehicle exactly." With large warehouses close to stores, Arch restocks stores several times each day, to be sure high-demand parts are there for customers, and to bring special-request parts customers need directly to their closest store.
Arch Auto Parts at 23402 Merrick Blvd. Queens, NY serves the Laurelton, Rosedale, Valley Stream and Springfield Gardens communities. This is also a high-traffic street, with 20,759 people who pass daily (approximation of the NY Dept. Of Transportation). As a locally owned and operated store, Arch fits well into this community, where each town has a strong neighborhood identity.
About Arch Auto Parts
Founded in 1979, Arch Auto Parts operates ten stores in Brooklyn, Queens and Long Island, NY, serving professional automotive service technicians as well as DIY mechanics and auto enthusiasts. Arch Auto Parts delivers unsurpassed customer service and discount prices on a wide selection of high-quality auto parts from Airtex, AP Exhaust, Akebono, Auto 7, Bosch, Denso, Exide, Fram, Gabriel, Gates, Hitachi, Mahle, MPA, NGK, Raybestos, Standard, Timken, TRW and other trusted brands. Arch Auto Parts also stocks Super Auto parts. Precisely manufactured to meet or exceed OE form, fit and function, Super Auto parts deliver superior performance, reliability and durability at highly competitive prices.
Arch Auto Parts stocks more than 50,000 OE and high-quality aftermarket auto parts for domestic and foreign vehicles, including brake pads, drums and rotors; wheel hubs and bearings; motor mounts, chassis and control arms; shocks, struts, steering and suspension parts; cabin filters, oil filters, fuel and emission filters and manifolds; exhaust systems and clutches; wiper blades, bulbs, sensors and switches; timing belts and water pumps; ignition, alternators, distributors and batteries; heating and air conditioning; motor oil and other fluids, supplies and accessories; as well as hard-to-find car parts such as window regulators and wiper motors. Arch Auto Parts is open seven days a week with experienced countermen dedicated to helping New York customers find exactly the parts they need. For more information, visit us at http://www.ArchAutoParts.com or call 718.657.9600.