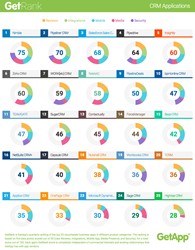 ...all-in-one solutions which offer good mobile apps and are transparent with their security measures are more successful...
Barcelona, Spain (PRWEB) July 14, 2015
GetApp's product ranking, GetRank, has been updated for Q2 to highlight the top 25 apps for Customer Service, CRM and Call Center. The ranking is based on five data points including User Generated Reviews, Integrations, Mobile Platforms, Media Presence, and Security. The ranking was first published in Q1 and will be updated quarterly to reflect newly available data.
Topping the list in Customer Service for the second quarter running is Zendesk, while Nimble nabbed the top spot for the first time in CRM; Vocalcom remained number one in Call Center since last quarter.
The goal of the ranking is to provide valuable data to businesses looking to make a first assessment when choosing cloud-based software.
According to GetApp CEO and co-founder Christophe Primault, "the marketplace for cloud-based Customer Service and Customer Management apps has become very crowded. Our ranking of the top cloud-based Customer Service software shows that all-in-one Customer Service solutions that offer good mobile apps and are transparent with their security measures are more successful and more likely to cater to the current needs of a business."
A range of data points is what makes GetApp's ranking unique in the industry. User generated reviews and integrations were calculated using data listed on GetApp, while security scores were calculated using vendor responses to a security survey based on the Cloud Security Alliance Self-­Assessment Form. Mobile platform data was pulled from Google Play and the App Store, while Media Presence was calculated using data collected from social media monitoring tool Brandwatch.
Along with the ranking, GetApp has updated its research report showcasing Q2 trends in Customer Service, Call Center, and CRM software. The report features insights from industry experts including Customer Service and Experience Expert Shep Hyken, Co-founder and Partner of SMB Group Laurie McCabe, and President and Principal Analyst of COMMfusion, Blair Pleasant.
Download a full copy of GetApp's Q2 research report, Leveraging trends in CRM, Customer Service and Call Center cloud solutions to achieve Customer Success, on GetApp.
More about GetApp: GetApp is operated by Nubera, a Gartner company. Headquartered in Barcelona (Spain), Nubera serves as an ecosystem of user-generated and editorial reviews of software and apps for businesses.