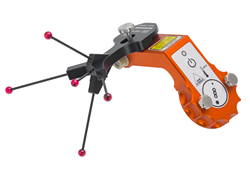 (PRWEB UK) 10 July 2015
Renishaw is pleased to announce the launch of the neurolocate™ patient registration system in countries that recognise the CE (Conformité Européene) mark.
neurolocate is a frameless patient registration system for the neuromate® stereotactic robot. The technology is based on a robot arm mounted fiducial marker frame with intraoperative X-Ray/CT.
Prof. Steven Gill, Consultant Neurosurgeon at North Bristol NHS Trust said, "neurolocate is helping us to speed up the surgical workflow while giving us the registration accuracy we need for our stereotactic procedures."
Dr. Francesco Cardinale, Neurosurgeon at the Claudio Munari Center for Epilepsy at Niguarda Hospital in Milano, Italy added, "neurolocate will provide us with multiple advantages compared to currently available registration systems. As all the planning images are taken well in advance of the procedure, without the need for any fiducials, we will be able to work in frameless mode with the precision of a framebased procedure; fully exploiting the capabilities of intraoperative imaging and eliminating the need to move the patient between the operating room and the CT scanner facility."
Dr. Abed Hammoud, CEO of Renishaw Mayfield said, "This launch marks another important milestone for Renishaw in our endeavour to broaden the range of surgical solutions for our neuromate system. neurolocate will allow us to help surgeons further in providing optimal care for their patients by further simplifying the surgical procedure while maintaining surgical accuracy."