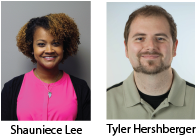 Indianapolis, IN (PRWEB) July 13, 2015
The digital world is constantly growing, and in order for businesses to be successful, they must have a strong presence on the internet; no industry is immune from the digital world and you have to learn to love it and utilize it to capture your intended audience.
"Connecting with consumers through the internet, just like any other industry, is a growing norm in the HVAC industry, and Jackson Systems understands that," stated Shauniece Lee, the new marketing assistant at Jackson Systems. "They realize that contractors are now more likely to look things up on their phones and to use Google for information rather than use a phonebook and other tools that were more common ten years ago. This is something our company has embraced."
Jackson Systems continuously looks for ways to improve their reach so they can better accommodate their current customers and potential clients. To stay on top of the ever evolving trends, Jackson Systems has hired two new employees to their marketing department. Shauniece Lee has been brought in as the new marketing assistant and Tyler Hershberger as the new digital media specialist. Although their education comes from two rival colleges, Shauniece from Indiana University in Bloomington, Indiana, and Tyler's from Purdue University in Lafayette, Indiana, their goals are the same: better serve Jackson's customers and bring in new business.
"Coming from sales and corporate communications, I understand that building relationships is the best way to forge meaningful partnerships. What makes that difficult is that we are no longer a face-to-face society, but face to screen. The new challenge is to create authentic connections through an impersonal medium." -Tyler Hershberger
Jackson Systems strives to improve their communication and relationships with their customers by utilizing different tools to increase their online presence. Lara Dufault, Jackson Systems' Marketing Manager, went on to emphasize just how much customer service and relationship-building means to the company.
"Here at Jackson Systems we offer our customers free online training. We do this so we can educate our customers on new products and installations in a way they prefer, and that fits their schedules. We care about our customers, and educating them is beneficial to them and important to us. With a marketing department that is now experienced in social media digital media and traditional marketing we will be able to better reach our customers where they are."
Whether it's through print, online marketing or the ever changing social media channels, Jackson Systems is confident they will be able to reach out to their contractors in the ways they prefer. As they continue to look for new and unique ways to build better relationships, Tyler and Shauniece are on board and excited to take on that challenge.
About Jackson Systems:
Jackson Systems is a leading direct-to-contractor HVAC controls manufacturer and distributor. Founded in 1997, Jackson Systems today is one of the fastest growing companies in the Midwest, serving customers worldwide. We produce innovative products for the commercial and residential markets. Ease of installation is built into every design, providing the most contractor-friendly products in the industry. Strong technical support and free same-day shipping are the cornerstone of our excellent client service. Jackson Systems is "Controls Done Right."
For formal quotes, design assistance or additional information, visit http://www.jacksonsystems.com or call 888-652-9663.