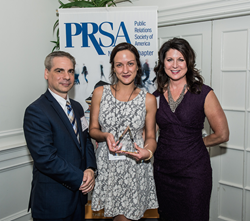 EATONTOWN, N.J. (PRWEB) July 09, 2015
lotus823, a PR and digital marketing agency based in New Jersey (http://www.lotus823.com), is excited to announce it has received a Pyramid Award and an Honorable Mention in PRSA NJ's (Public Relations Society of America, NJ Chapter) Pyramid Awards competition.
lotus823 won the Pyramid Award in the Media Relations category for its ability to generate national media coverage and establish brand awareness for Wellograph, the world's first sapphire crystal wellness watch. lotus823's public relations efforts resulted in more than 875 stories across print, broadcast, and online media, totaling more than 750 million impressions.
lotus823 also earned an Honorable Mention in the Marketing Communications category for its work with Peerless-AV's B2B Thought Leadership Program. lotus823 employed a multi-tier strategy incorporating social media, content development, and public relations to strengthen Peerless-AV's presence as an industry thought leader. As a result, Peerless-AV saw increases in its web traffic, social media presence, and media coverage.
"We are honored to be recognized by PRSA NJ for our agency's work on behalf of our clients," said David Hernandez, co-founder and managing partner, lotus823. "We as an agency consistently strive to achieve top results for our clients, and being acknowledged among industry peers for that work is a wonderful accomplishment."
PRSA NJ established the Pyramid Awards in 1989 to recognize excellence in public relations and communications in New Jersey. An awards ceremony was held on June 17, 2015, where lotus823 received a trophy and certificate.
For more information about PRSA NJ and the Pyramid Awards, please visit: http://prsanj.org/events/pyramid-awards/
About lotus823
lotus823 is a PR and digital marketing agency offering content marketing, public relations, social media, and branding consultancy services to increase brand visibility both online and offline. With offices in New Jersey, lotus823 develops and executes customized strategies that produce measurable results, for a diverse base of clients. Visit http://www.lotus823.com for more information.
Connect with lotus823 on Twitter at http://twitter.com/lotus823 and Facebook at http://www.facebook.com/lotus823.
Media Contact
Beth Gard
bethg@lotus823.com
732-212-0823