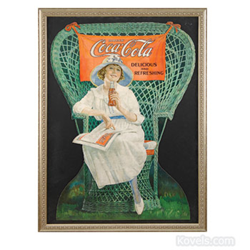 Cleveland, OH (PRWEB) July 10, 2015
Kovels' Top 20 list of antiques and collectibles is based on the results of hundreds of thousands of searches that took place on Kovels.com. During June 2015, collectors found for prices for:
1) Fenton glass
2) Occupied Japan
3) McCoy pottery
4) Bavaria
5) Depression glass
6) Wedgwood
7) Delft
8) Coca-Cola
9) Dinnerware
10) Hull pottery
11) Capo-Di-Monte ceramics
12) Stove
13) Banks
14) Pepsi-Cola
15) Lamps
16) Haeger pottery
17) Trunks
18) Belleek
19) Satsuma pottery
20) Scales
It's been a great year for antique advertising. Colorful signs with eye-catching graphics command lots of attention from collectors. Prices for large advertising signs, enameled metal signs and die-cut cardboard advertising are all up.
Readers of Kovels' Top 20 lists know that Coca-Cola advertising is consistently sought after by collectors. Several major collections of Coca-Cola advertising (No. 8) have been sold that included some rare, old pieces. A 1900 Coca-Cola calendar in mint condition sold for $210,000 at a Pennsylvania auction, setting a record price. It pictured a woman reading a letter and holding a glass of Coke.
Coke advertising is an art form that traces the style and fashions of American life over the past 125 years, from the late 1880s, when Coke was first served, to the present. Many Coke pieces can be dated from the fashions and slogans. Collectors often specialize in a particular type of Coca-Cola collectible. They look for bottles, bottle carriers, openers and coolers, serving and tip trays, glassware, calendars, clocks, radios, thermometers, toys, signs of all kinds, and much, much more. But beware, there are many fake and fantasy Coca-Cola items being sold.
The die-cut cardboard display sign pictured is from the 1920s and pictures a stylish woman in an oversized wicker chair enjoying a "delicious and refreshing" Coke. The sign, now framed, is 35 inches high by 25 inches wide, and was meant to stand on the floor with its easel back. It effervesced at a Pennsylvania auction, selling for $11,850.
Collectors who go to Kovels.com can buy knowing the identifying features, marks and prices of antiques and collectibles. Kovels.com and the book, "Kovels' Antiques and Collectibles Price Guide," list thousands of collectibles in hundreds of categories that are described, edited, priced and pictured.
Terry Kovel is America's foremost authority on antiques and collectibles. She is the well-known columnist and author of more than 100 books on antiques and collecting. With her daughter, Kim Kovel, she co-authors the best-selling annual "Kovels' Antiques and Collectibles Price Guide." The 2015 edition is now available in bookstores and online. They will discuss antiques and collectibles topics with accredited media. Photographs are available. Contact pr(at)kovels(dot)com.
About Kovels.com
Kovels.com, created by Terry Kovel and Kim Kovel, provides collectors and researchers with up-to-date and accurate information on antiques and collectibles. The company was founded in 1953 by Terry Kovel and her late husband, Ralph. Since then, Kovels' Antiques has written some of America's most popular books and articles about collecting, including the best-selling "Kovels' Antiques and Collectibles Price Guide," now in its 47th edition. The website, Kovels.com, online since 1998, offers more than 1 million free prices, and includes a free weekly email, "Kovels Komments." It gives readers a bird's-eye view of the market through the latest news, auction reports, a Marks Dictionary, readers' questions and answers, and much more.
Contact Information:
Liz Lillis
216.752.2252
Pr(at)kovels(dot)com