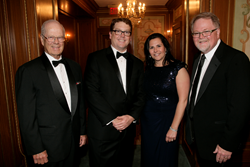 Bronx, NY (PRWEB) July 09, 2015
Four hundred people attended Calvary Hospital's 32nd Annual Awards Gala on May 28 at The Pierre in New York City. The evening raised $900,000 for programs and services benefitting Calvary patients and their families. Radio legend John R. Gambling served as master of ceremonies, and Tony Award nominee Sherie Rene Scott performed as well.
Carlos M. Hernandez, chairman of the board of the Calvary Fund, and a dinner co-chair, presented The Calvary Medal to Curtis Arledge, vice chairman & CEO, Investment Management, BNY Mellon. He was recognized for his distinguished corporate and civic leadership and outstanding philanthropic commitments to the Calvary mission. The Calvary Fund has raised nearly $8.5 million for the programs and services the hospital provides.
Calvary Hospital welcomes patients and families from all faith backgrounds. It was established in 1899 on two brownstone houses on Perry Street in Greenwich Village by a small group of New York widows. Inspired by the work of France's Women of Calvary, they began caring for impoverished women with terminal diseases. Originally called The House of Calvary, it moved to Macombs Road in the Bronx in 1915 before becoming fully accredited in 1965 and becoming Calvary Hospital in 1969. It has occupied its present location at 1740 Eastchester Road in the Bronx since 1978.