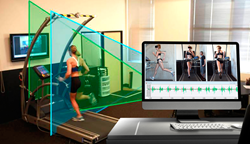 New York, NY (PRWEB) July 11, 2015
NYDNRehab, a New York City-based physical therapy clinic, is introducing a revolutionary, sport-injury preventative testing program for athletes. This is the first time this type of technology, which was developed by world-renowned researcher Dr. Christopher Powers of University of South California, is being made available to the public in New York.
With over 10 million sport injuries per year in the United States1, biomechanical analysis offers a unique, noninvasive route to stay proactive and prevent a sport-related injury. The technology program uses force plate technology and motion cameras to analyze forces, toques, kinetics and kinematics of movement specific to the athlete and their sport. These movements are recorded and compared to a standardized biomechanical range, which then gives each parameter a score based on the percentage risk factor for a specific type of injury. Centered on the collected data, a report is customized for the athlete with specific recommendations for areas of improvement: strength, stability, flexibility, movement control and technique.
NYDNRehab is focused on preventing injuries on individual athletes through the use of biomechanical technology. For more information please inquire at 866-311-5889.
Offering sports physical therapy in New York from 9 a.m to 7 p.m. Monday through Friday, the rehab center is located at 130 W. 42nd Street, Suite 1055, New York 10036.
For more information on Dr. Christopher Powers and biomechanical analysis please visit: http://pt.usc.edu/labs/mbrl/