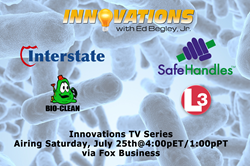 This episode is jam-packed with exciting information...
Jupiter, FL (PRWEB) July 17, 2015
DMG Productions announces the upcoming airing of Innovations with Ed Begley, Jr., scheduled to broadcast on Saturday, July 25, 2015 at 4:00 p.m. ET and 1:00 p.m. PT, via Fox Business.
In this episode, Innovations takes a look at Interstate Restoration, a company dedicated to helping companies get back to business quickly through disaster recovery and restoration.
The show will explore SafeHandles'™ patent pending technologies, which include EPA approved antimicrobials that are proven to reduce the presence microorganisms that can cause illness. Viewers will learn about how the company's products are applied to common touch points such as door levers, railings and push plates to reduce the spread of illness.
In addition, Innovations will focus on Bio-Clean's proprietary formula, that is strong enough to remove the buildup that hazardous liquid drain openers leave behind, yet safe enough for pipes and fixtures.
Furthermore, the show will feature L-3 DPA. Audiences will learn how L-3 DPA's instructional design is performed utilizing cutting-edge software and media to maximize the training experience, while maintaining instructional effectiveness and affordability.
"This episode is jam-packed with exciting information," said Robert Sikich, Producer for Innovations. "We can't wait to share this information with our viewers."
About Innovations & DMG Productions:
Innovations, hosted by award winning actor Ed Begley, Jr., is an information-based series geared toward educating the public on the latest breakthroughs in all areas of society. Featuring practical solutions and important issues facing consumers and professionals alike, Innovations focuses on cutting-edge advancements in everything from health and wellness to global business, renewable energy, and more.
DMG Productions (responsible for creating the Innovations show) includes personnel specialized in various fields from agriculture to medicine, independent films to regional news and more. Our field producers work closely with experts in the field to develop stories. This powerful force enables us to consistently produce commercial-free, educational programming that both viewers and networks depend on.
For more information visit: http://www.InnovationsTelevision.com or contact Robert Sikich at (866) 496-4065 x 805 or via email at Robert(at)InnovationsTelevision(dot)com.