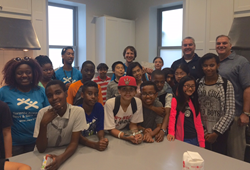 HOUSTON (PRWEB) July 09, 2015
Aggreko, the world leading provider of generator rentals, heating, cooling and 100% oil-free air compressors, has donated 100 TORONTO 2015 Pan American/Parapan game tickets to the Boys & Girls Clubs of Toronto. The Pan American/Parapan events will be held July 10th- 26th and Aug. 7th-14th, respectively.
Aggreko is the Official Temporary Energy Services Supplier for the Games and is supplying more than 100 generators totaling over 50 MW of power that will provide primary and back-up power systems across all game venues, including the live global broadcast transmitting from the Cisco International Broadcast Center.
In addition to tickets for the Boys & Girls Club to attend the Games, Aggreko is providing tickets to the Opening Ceremony – a one night only show by Official Creative Partner, the world-renowned Cirque du Soleil – where the Pan Am Cauldron will be lit to officially start the Games.
"We power large scale events around the world but today we are very proud to be able to offer this once-in-a-lifetime opportunity to the Boys & Girls Clubs of Toronto," says Paul Hines, head of National Event Services North America Aggreko. "By providing these game tickets we hope to open the eyes of our youths to what they, too, can accomplish in life, whether it's to be a top athlete, an electrical engineer, or an Aggreko technician who installs the system that powers a large scale event seen around the world."
The Boys and Girls Club of Toronto is a leading provider of quality after school and out-of-school programs to over 28,000 young people, serving 35 communities and their families in Toronto each year.
"We are elated over Aggreko's donation of Pan Am tickets," said Ian Edward, executive director of the Toronto Kiwanis Boys and Girls Club. "We have been working with our youth to educate them about the Pan Am Games and have even hosted our own games, so it came as a big surprise to receive tickets to attend the actual games. Our mission is to offer a safe and supportive place where youth can experience new opportunities, and donations like this drive that point home and help our youth to build positive relationships and confidence. We're grateful to Aggreko for thinking of us."
###
EDITOR'S NOTES
Aggreko plc is the world leader in the supply of temporary power and temperature control solutions. Aggreko employs over 7,700 people operating from 211 locations. In 2014 we served customers in about 100 countries, and had revenues of approximately GBP 1.6bn (USD 2.6bn or Euros 2.0bn).
Aggreko provides power and temperature control solutions to customers who need them either very quickly, or for a short or indeterminate length of time. Examples would be the supply of power to an industrial site which needs to service its permanent power supply, supplying a whole city in times of power shortage, or providing a major sporting event with power and cooling systems. We serve our customers either through our 211 service centres, which we call the Local business, or globally through our Power Projects business.
In the Local business, which accounts for about half of our revenues, we hire our equipment to customers, who then operate it for themselves, although we retain responsibility for servicing and maintaining it. In the Power Projects business, which also accounts for about half of our revenues, we operate as a power producer. We install and operate power plants and we charge our customers both for providing the generating capacity, and for the electricity we produce. We design and manufacture equipment specifically for these requirements in our factory in Dumbarton, Scotland.
Recent customers include the 2014 FIFA World Cup BrazilTM, the XX Commonwealth Games and Cirque du Soleil and the power utilities in over 50 countries including the UK, France, Ivory Coast, Mozambique, Indonesia, Bangladesh, Argentina, Venezuela, Chile, Brazil and the USA.
In 2014 we fulfilled over 55,000 customers' assignments and of those who responded to our research, 67% gave us a recommendation of 9 or 10 out of 10.
For the latest updates, please subscribe to our social media channels on LinkedIn, Twitter or Facebook
For further information, you can visit us at: http://www.aggreko.com