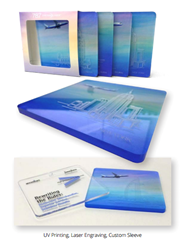 The combination of acrylic and laser engraving make for show stopping trophies and awards.
Chicago, IL (PRWEB) July 17, 2015
Chicago based digital printer Sunrise Hitek is now offering in-house laser engraving and die-cutting on acrylic. The combination of acrylic and laser engraving make for show stopping corporate gifts and awards. Customers can choose from a variety of acrylic types such as clear, frosted, non-glare and even colors! Optically-registered cutting and printing ensures perfect line-up and a consistent product, and the cutting process allows for the most intricate of cuts, resulting in a multitude of options. For full color options, 6-color UV flatbed, 1200dpi resolution and digital white ink applications are also available. Laser services can be on acrylic from any size up to 28"x17" and up to 1" thick for through cuts and parts can be up to 8" high for engraving. Specializing in short-run printing, Sunrise can accommodate quantities from one to thousands.
There are many bonuses to the all digital workflow that Sunrise Hitek employs. All digital workflow means lower setup cost, excellent quality, and faster turnaround. Laser cutting works great with intricate designs and offers the clearest edge quality.
About Sunrise Hitek Group, LLC.
Sunrise Hitek (https://www.sunrisehitek.com/) is an Inc. 5000 company established in 1988 and employs the most advanced equipment and technology, such as G7-certified HP Indigo and UV flatbed presses, laser engraving, and digital die-cutting, to create best-in-class color printing, short-run packaging, P.O.P. retail displays, and signage products. A privately-owned enterprise, the company is based in Chicago and sells products worldwide.