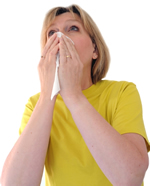 Those that don't suffer with hay fever may not understand what it is like to live with or have empathy for sufferers, but hay fever can cause misery though repeated episodes of sneezing...
Bury, Lancashire (PRWEB UK) 10 July 2015
Medical Specialists® Pharmacy have experienced a staggering 310% sales spike in their hay fever treatments within the last two months, astounding everybody at the Manchester-based online pharmacy and represents a significantly bigger sales increase over the pharmacy's treatments for other health problems, such as acne, hair loss, or obesity.
The online pharmacy has a diverse range of medicines to treat allergies such as hayfever, including Loratadine – a non-drowsy antihistamine which can provide relief from the symptoms of hay fever, bites and urticaria, and Nasonex nasal spray – a nasal corticosteroid spray for the relief of congestion, sneezing, itching and a runny nose. Prevalin is another nasal spray, which lines the inside of your nose and actually deactivates the pollen and Alomide allergy eye drops can bring relief from red, itchy, watery and puffy eyes if used regularly.
However, all of these products have been in big demand in the last few months from patients across Britain, causing an unprecedented demand not previously experienced, implying there are more hay fever sufferers now that ever.
This 310% sales rise could be explained though. The recent rare warm weather around the UK may be fantastic news to many; it is a chance to put the umbrella away, bask in the sunshine, top up the tan, get the barbeque on and good weather can do wonders for a person's mood.
Unfortunately, this good mood will probably not spread to the 10 – 15 million people in the UK that are suffering with the common allergic condition hay fever, a condition that affects around one in 5 people at some point during their lifetime.
Those that don't suffer with hay fever may not understand what it is like to live with or have empathy for sufferers, but hay fever can cause misery though repeated episodes of sneezing, runny or blocked noses, and red, itchy, watery eyes. These symptoms occur when a person has an allergic reaction to pollen – a fine powder comprised of proteins that result in the nose, eyes, throat and sinuses (tiny air-filled cavities behind the cheekbones and forehead) to swell, become irritated and inflamed.
There are approximately 30 different types of pollen that may induce a person's hay fever, with pollen emanating from various sources, however about 90% of Brits with hay fever are allergic to grass pollen.
According to the pollen count season, grass pollen is often at its highest levels from mid-May to July, with tree pollen being most prominent from late March to mid-May and weed pollen from the end of June to September.
The amount of pollen emitted and spread around the air by pollen plants is determined by the levels of sunshine, rain, or wind. For example, pollen can easily spread during humid and windy days, whilst rain-filled days usually result in pollen being cleared from the air and a decrease in pollen levels.
Whilst in their particular pollen season, plants release pollen during the early morning, but through the day as the temperatures rise, flowers open up and release more pollen into the air, peaking during early evening.
So what can you do to help keep the trouble symptoms of hay fever at bay? Hay fever suffers should take a daily non-sedating antihistamine tablet such as Loratadine or Cetirizine. They should use a nasal wash/rinse such as NeilMed Sinus Rinse, and then apply a steroid nasal spray such as the previously mentioned Nasonex, whilst anti-inflammatory eye drops can work to prevent streaming, itchy eyes. Checking the pollen count for your particular area is also advisable, as is staying indoors with the windows closed during the early evenings (when pollen levels reach their highest). In addition, wrap-around style sunglasses are ideal for hay fever sufferers as they help to protect the eyes from both pollen and harmful UV rays.
The charity Allergy UK have provided an extensive and detailed list of ways to manage hay fever and allergic rhinitis on their website, which includes further minor lifestyle alterations that can help to avoid allergic triggers, in addition to further advice on the aforementioned antihistamine and steroid sprays provided by Medical Specialists® – such as how long they can take to have an effect and how to get the best out of them.