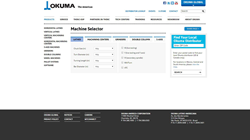 Charlotte, NC (PRWEB) July 10, 2015
Okuma America Corporation, a world-leader in CNC machine tool manufacturing, today announced the launch of their web-based machine selector tool http://www.okuma.com/machine-selector.
Okuma offers an extremely wide variety of CNC machine tools with a broad range of sizes and configurations for various applications. The machine selector tool takes the guess work out of selecting a machine by providing users with a convenient and effortless method of finding the Okuma machine tool that best suits their specific manufacturing needs.
Users begin by selecting the machine type (lathe, machining center, grinder, double column or 5-axis machine). Based on the machine type, various parameters are chosen (chuck size, turning diameter, turning length, bar diameter, spindle speed, table size, etc.). Additional options may include live tooling, secondary spindle and automatic tool changers (ATC).
Once specifications are selected, the machine selector populates a list of all the available Okuma machines that meet the specific requirements submitted. Complete machine descriptions and any related video demonstrations are displayed and users can access additional information and detailed specifications for individual machines by clicking on the machine photos.
Users can request additional information or price quotes by completing the Request A Quote form found on each machine's detail page. Quotes and additional information will be delivered by Okuma's industry-leading, nationwide distributor network. To find an Okuma distributor in your local area visit http://www.okuma.com/distributors. For more information on Okuma's complete lineup of machine tools visit http://www.okuma.com/cnc-machine-tool-lineup.
About Okuma America Corporation
Okuma America Corporation is the U.S.-based sales and service affiliate of Okuma Corporation, a world leader in CNC (computer numeric control) machine tools, founded in 1898 in Nagoya, Japan. The company is the industry's only single-source provider, with the CNC machine, drive, motors, encoders, spindle and CNC control all manufactured by Okuma. Okuma's innovative and reliable technology, paired with comprehensive, localized service protection, allows users to run continuously with confidence – maximizing profitability. Along with its industry-leading distribution network (largest in the Americas), and Partners in THINC, Okuma facilitates quality, productivity and efficiency, empowering the customer and enabling competitive advantage in today's demanding manufacturing environment. For more information, visit http://www.okuma.com or follow us on Facebook or Twitter @OkumaAmerica.