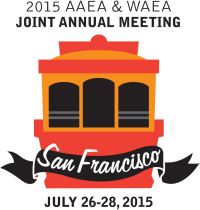 San Francisco, California (PRWEB) July 09, 2015
Climate Change, water worries, the growing health crises of obesity and diabetes, and an ever-increasing threat to air and food quality: these are all crucial issues facing people across the United States and around the world.
Researchers are focusing their efforts on these issues, and their work will be featured during the 2015 AAEA & WAEA Joint Annual Meeting, July 26-28, at the San Francisco Marriott Marquis.
The Annual Meeting is the largest networking event in the world for leading minds in Agricultural and Applied Economics. Experts from universities, government agencies and leading industry organizations will all be on hand.
"Attendees from across the globe will gather to exchange ideas, present new research, and discuss economic and policy issues important to agriculture," AAEA President Barry Goodwin, PhD, North Carolina State University Department of Agricultural and Resource Economics said. "[They] represent world leaders at the forefront of applied research, education, and outreach addressing world agriculture."
For more detailed information about many of the topics being presented, and how this research has a critical real-life and near-term impact, visit the 2015 Joint Annual Meeting website at http://www.aaea.org/meetings/annual-meeting/2015-aaea--waea-joint-annual-meeting-new/contact-us/media
**Interviews are available before the Annual Meeting and off-site via phone or Skype
###