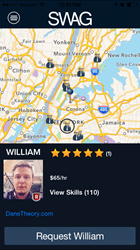 Tempe, AZ (PRWEB) July 15, 2015
Speak With A Geek (SWAG), connecting businesses with trusted technical experts for more than 15 years, today officially launched its much-anticipated new app SWAG Client. SWAG Client gives businesses instant access to a huge pool of vetted technical Geeks. This expertise covers hardware and software, training, app development, design and much more. The SWAG Geek and SWAG Client apps together make up the Speak With A Geek on-demand platform available for iOS and Android devices and coming soon to Windows phones.
For more than 15 years, SWAG has provided thousands of businesses with 24/7 access to certified tech experts and has curated a community of the most talented IT staff. Now the SWAG Client app makes technical project execution painless and hassle-free by offering business mobile functionality, ease of use and thousands of quality assured and vetted Geeks on demand.
Through the SWAG Client app, businesses are also able to hire Geeks for a full time position. Unlike many tech recruiting agencies, SWAG does not require a large upfront payment -- businesses pay only a monthly percentage of the Geek's salary for the first 12 months of their employment. For on demand projects, there are no fees. This new recruiting model and simple fee schedule fits today's business needs by taking the fear and stress out of hiring and allowing companies to find the right tech for the situation.
Getting set up is simple – users launch the app and hit "Request Geek." From there, users can choose a Geek by their skills, certifications and price. For those without the expertise to define a technical project, all it takes is a short project description or a call to 1-877-999-6402 and the team at SWAG will assist you.
For an extra layer of assurance, Geeks and Clients are required to leave in-app reviews. User generated feedback helps build a SWAG community and ensures that the SWAG experience will be exceptional for all involved. SWAG isn't just about offering Clients simplicity when hiring technical experts—SWAG Geek offers the best online resource for Geeks to earn supplemental income or build a portfolio generating a full time income.
Whether Geek or Client, SWAG is completely free for all on-demand projects. SWAG is available as a free download on the iTunes and Google Play store. To download SWAG Client visit: SWAG Client
About Speak With A Geek
With established Geeks across the nation and abroad, Speak With A Geek provides around-the-clock IT help to businesses through live and remote services. The company's new mobile platform lets Geeks and businesses connect in their local or worldwide marketplace from the comfort and convenience of their mobile device.
Learn more at speakwithageek.com.
For media inquiries, contact us at pr(at)speakwithageek(dot)com