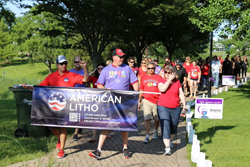 "We're motivated by people we know and love who've had cancer, and compassion for people we might never meet who are fighting for their lives right now."
Carol Stream, Illinois (PRWEB) July 14, 2015
The printing and direct marketing company fielded a 27-member Relay team under the leadership of Sales VP Frank Arostegui of Aurora, himself a survivor of squamous cell carcinoma who serves on the American Cancer Society (ACS) Regional Leadership Board for the DuPage (Illinois) county area. Arostegui recdently shared his cancer story in the company's blog, Brand Energy.
"It's awesome to have employees, friends and family all here, celebrating what we've accomplished over the last 5 months," Arostegui said as he hit the track with his family and some 50 ALitho supporters who turned out for the community event.
All afternoon and evening, fellow Relayers streamed over to ALitho's tent to fit their faces inside the carnival-style photo board that transformed them into Chicago Blackhawk Jonathan Toews holding the Stanley Cup.
"ALitho is full of die-hard hockey fans, and we figured that everyone at Relay would love the chance to stand in Toews' skates," said Senior Account Rep Glenn Chelius, who worked with Graphic Designer Karie Vaughn to create the display.
Starting with their team kickoff back in February, company employees brought their best to the Relay campaign, Arostegui said.
In April, Sales VP Joe Bulgarelli of St. Charles and his wife, Ursula, launched a Cookies For Cancer sale that brought platters of home-baked goodness to hungry employees. Strategic Business Development VP Sam Dentino and his colleagues spearheaded a successful May fundraiser at Bulldog Ale House in Carol Stream.
Campaign goals also focused on helping employees reduce their own cancer risks. Each week, Vaughn teamed with Staff Supervisor Ellie Valadez to create a new poster in Spanish and English, sharing practical information on nutrition, exercise, cancer screening and more. Valadez also narrated a Spanish-language video on colon cancer screening as part of the effort.
In one last fundraising push before Relay, employee teams took part in a 24-hour battle to see who could amass the most pennies while sabotaging the competition by stuffing their collection buckets with silver coins and bills.
The proceeds, verified the following week by Harris Bank, helped loft the team's total results to nearly $10,400 raised for the cancer fight.
While they're thrilled with the results, Arostegui reports that Team ALitho is "just getting started. We're motivated by people we know and love who've had cancer, and compassion for people we might never meet who are fighting for their lives right now." The company aims to raise thousands more for ACS by year-end.
Relay For Life proceeds fund vital programs for cancer patients, caregivers and families in every U.S. community, including free rides to treatment for those in need and a 24/7 cancer information line (800-227-2345) open to all, providing in-depth support in multiple languages.
American Litho, Inc. serves the brand-building needs of major organizations in retail, insurance and financial services, consumer goods manufacturing, non-profit development and more. The company's 300,000-square-foot plant in Carol Stream, Illinois, offers web offset and sheet-fed offset printing along with digital and wide-format printing for direct mail, packaging, merchandising, trade show display and all commercial printing requirements. ALitho also provides data analytics, in-house mailing verification and logistics, warehousing and fulfillment services to meet the widest possible range of marketing needs. More on the company's cancer-fighting efforts can be viewed on the ALitho community news page.