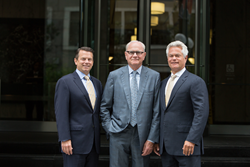 I'm thrilled to be joining Cogan & Power.
Chicago, IL (PRWEB) July 15, 2015
Personal injury lawyer Thomas K. Prindable is joining the law firm of Cogan & Power, P.C., as managing partner effective July 15, 2015. He joins the firm from Clifford Law Offices, where he served as managing partner for almost two decades.
"I'm thrilled to be joining Cogan & Power," Mr. Prindable says. "The opportunity to work with Michael Cogan, John Power and all of the firm's lawyers was an opportunity I couldn't refuse."
As managing partner at Cogan & Power, Mr. Prindable will work with prospective and new clients and manage the firm's day-to-day operations.
"Tom Prindable is a senior statesman among Chicago personal injury lawyers and we couldn't be happier to have him join Cogan & Power as managing partner," says Michael Cogan, a partner at Cogan & Power. "He shows true compassion when working with injury victims, and serves as a calm, reassuring presence in the aftermath of what are frequently traumatic, stressful events. We're excited to have Tom as part of the Cogan & Power team."
During his career, which spans more than 40 years, Mr. Prindable has represented victims in many types of personal injury cases. These include general and commercial aviation accidents, other types of transportation accidents, construction accidents, products liability cases, medical device and pharmaceutical litigation, premises liability cases, and class actions and mass torts. Mr. Prindable also represents whistleblowers in qui tam litigation and does probate work in connection with wrongful death cases.
Prior to joining Clifford Law Offices in 1993, Mr. Prindable had his own practice in Kane and DuPage Counties, where he also once served as president of the Kane County Bar Association.
Before becoming a lawyer, Mr. Prindable pursued the priesthood, and today remains committed to helping others who are in need. Several Chicago-area and Illinois organizations have recognized Mr. Prindable for his pro bono work with guardians ad litems.
A 1973 graduate of the Illinois Institute of Technology, Chicago-Kent College of Law, Mr. Prindable also has a Bachelor of Arts degree in Philosophy and a Bachelor of Theology degree from St. Mary of the Lake.
He is admitted to practice in Illinois and the US District Court for the Northern District of Illinois.
About Cogan & Power, P.C.
Cogan & Power, P.C., provides personalized, aggressive representation to victims of personal injury and medical malpractice. With over 100 years of combined legal experience, the lawyers of Cogan & Power have a history of achieving record-breaking results for their clients. For more information about Cogan & Power, P.C., please visit http://coganpower.com.