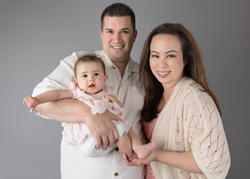 Las Vegas, NV (PRWEB) July 27, 2015
Sher Fertility Institute, a national network of fertility clinics known worldwide for their personalized approach to fertility treatment, has added a veteran physician to their clinical team in Las Vegas.
Dr. Mark Severino joins Dr. Geoffrey Sher, making them one of the most experienced, most successful Reproductive Endocrinology teams in the region.
Combined Drs. Sher and Severino have more than six decades of experience treating infertility patients and are responsible for the births of more than 20,000 IVF babies.
"Dr. Severino embodies all of the qualities that we look for when we add physicians to the network," said Sher. "Dr. Severino is compassionate, accessible and knowledgeable. He cares about his patients and takes pride in helping them achieve their dream. He is a trusted partner and a personal friend."
Dr. Severino has broad range of experience. For many years he served as an Associate Clinical Professor of Obstetrics and Gynecology at the University of Nevada School Of Medicine in Las Vegas. He co-founded the Nevada Fertility Center for Advanced Reproductive Endocrinology and Surgery.
"I am very excited to be given the opportunity to work with and learn from one of the pioneers in the field of Reproductive Medicine, Geoff Sher," said Dr. Severino. "I have always admired the passion that Dr. Sher exhibits in the goal of overcoming infertility and I have come to realize that we share many common traits when it comes to the treatment our patients."
Special areas of interest for Dr. Severino include In Vitro Fertilization, Infertility Surgery, Endometriosis and Fertility and Menopause. He is also fluent in Spanish.
Well-respected for his work. Dr. Severino is widely published on topics related to infertility and In Vitro Fertilization. Dr. Severino has won numerous Patients' Choice and Compassionate Physician Awards.
"It is this exceptional bedside manner that attracted us to Mark when we were looking for a second physician for our Las Vegas Clinic," said Sher. "I look forward to working alongside him as we guide patients along the path from infertility to family."
Sher Fertility Institute is a national network of fertility clinics specializing in leading-edge technology, personalized infertility treatment, and compassionate reproductive care. SIRM Founder Dr. Geoffrey Sher established the first private In Vitro Fertilization (IVF) program in the United States and is a recognized authority and pioneer in the field of reproductive medicine. Dr. Sher and the institute's other fertility specialists have been influential in the development of dozens of important breakthroughs in the treatment of infertility and reproduction.