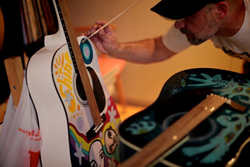 New York, NY (PRWEB) July 10, 2015
In advance of the September 18 release of their new full-length album The Phantom Cowboy (MPress Records), K's Choice has launched a global PledgeMusic campaign; check it out now here. The internationally acclaimed brother/sister duo of Sarah and Gert Bettens is donating a portion of the proceeds to charities that benefit those living with cystic fibrosis and burn victims.
Starting today, K's Choice fans worldwide have the opportunity to purchase an array of items including signed merchandise--photos, CDs, vinyl, set list, etc--as well as t-shirts, handwritten lyrics, sheet music and much more. In addition, K's Choice is also offering special, exclusive items such as custom electric guitars and acoustic guitars handpainted individually by Gert himself. A few select fans will score one-of-a-kind experiences such as a Skype chat with Sarah, personalized voicemail recorded greeting, an invite to perform on stage with the band, a songwriting session with Gert and personal, intimate living room performance.
"We jumped at the idea to connect directly with our amazing and supportive fans," the band shares. "They are constantly asking where they can get personalized merch so we knew right away that we wanted to give them what they want, while also having the chance to give back to charities we are passionate about."
K's Choice--rounded out by Reinout RJ Swinnen (keyboards, backing vocals), Tom Lodewyckx (guitar), Bart Van Lierde (bass) and Wim Van Der Westen (drums)--teamed up with producer Alain Johannes (Queens of the Stone Age, Jimmy Eat World, Chris Cornell) for The Phantom Cowboy, the most honest, gritty, straight-ahead rock album of their career. The first single, "Private Revolution," cuts especially deep. Check out the music video here. "It talks about being hit by certain realizations in the course of your life," Sarah explains. "Things can hit you hard and they can come out of nowhere and I think a lot of happiness lies in learning to navigate the inevitable and long list of changes and adjustments."
Since forming in Antwerp, Belgium in the mid-nineties, K's Choice went on to receive widespread international success, earning several Top 10 album positions for their LPs, including Paradise In Me (1995), Cocoon Crash (1998) and Echo Mountain (2010), which went straight to the #1 position in Belgium and landed them a top 5 in the Netherlands. The band's big break came in 1995 when they released "Not An Addict," a single that brought international fame and still, even 20 years later, receives radio airplay.
http://www.kschoice.com
http://www.facebook.com/kschoice
http://www.twitter.com/kschoicemusic
http://www.instagram.com/kschoicemusic
For more information on K's Choice, contact MSO PR:
Angela Villanueva, 818-380-0400 x232, avillanueva(at)msopr(dot)com
Mitch Schneider, 818-380-0400 x235, mschneider(at)msopr(dot)com