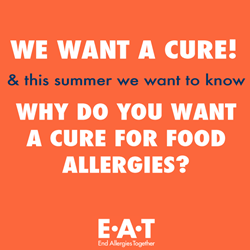 E.A.T. will promote the "We Want A Cure" campaign by speaking directly to people affected by food allergies nationwide.
New York, NY (PRWEB) July 13, 2015
E.A.T. (End Allergies Together), the only non-profit focused solely on funding food allergy research, has announced an educational campaign to raise awareness of this growing epidemic. The effort will include the release of a new social portal, the development of a partnership program targeting community organizations and the launch of a national grassroots effort.
With the roll out of the "We Want A Cure" campaign, E.A.T. will encourage users to share their stories, photos and videos of why they want a cure for food allergies. Live through September 25th, the campaign will offer a chance for entries to be shared on E.A.T's social media accounts as well as a chance to win free E.A.T gear.
Through its street team initiative, E.A.T. will promote the "We Want A Cure" campaign by speaking directly to people affected by food allergies nationwide. The street teams will launch in New York expand to over 15 cities by September. Representatives will be on hand to provide information about E.A.T. and to encourage those who have food allergies to share why finding a cure is so critical.
E.A.T. has also initiated a partnership program with outreach to local organizations and businesses such as allergy centers, grocery stores, schools, and libraries. E.A.T will offer information on food allergies and how individuals can help fund promising research.
The founders of E.A.T., Kim Hall and Elise Bates, are two mothers of children with life-threatening food allergies. At a local food allergy meeting, they bonded over the everyday fears and struggles with their kids' food allergies and agreed that they needed to help find a cure for this rapidly growing epidemic.
"Every day is a struggle for the over 17 million people who suffer from potentially life-threatening food allergies, and most everyone knows someone who is affected," said Hall and Bates. "We want to inform the public of the critical need for research funding and ultimately, a cure for food allergies by initiating conversation."
About The E.A.T Team:
E.A.T donates 100% of net proceeds to the most promising research. Funding will be allocated with the help of a medical advisory board of scientists and clinicians, who are leaders in the field but are not seeking research funding for their own studies, so E.A.T's goal remains objective. Further, E.A.T has a multi-perspective approach that brings the medical, scientific, business and legal communities together against the fight for a food allergy cure. For more info visit, http://www.EndAllergiesTogether.com
About The Founders Kim Hall & Elise Bates:
Kim has fourteen years of sales and marketing experience both locally and globally. She has worked for Ogilvy and Mather, Digitas, and Saatchi & Saatchi. Kim earned a BA from Skidmore College and attended the University of Business and Economics in Bejing China.
Elise has twelve years of for-profit marketing and strategy consulting experience at Mainspring (now IBM), Digitas, and Monitor Company (now Deloitte). Elise earned a BA from Colgate University and an MBA from Harvard Business School.