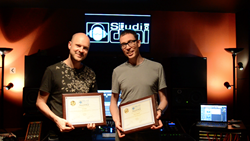 There really aren't many talent pools focusing on the careers of members that can offer what the Alliance does.
Las Vegas, Nevada (PRWEB) July 16, 2015
Long time electronic music trend-setters Studio DMI, have created a unique new service aimed at serious musicians and audio engineers who seek career resources. Using education as its backbone and the belief that learning never ends, the Alliance is geared towards DIY professionals as well as established DJ's and producers.
Since its launch on July 1st, 2015 some of the largest names in dance music have already joined the Alliance. Notable members include Mogan Page, Above & Beyond, TJR, Max Vangeli, DJ Shiftee, and Antoine Becks. With barely a week since its launch, "the interest has been pretty overwhelming," states Nik Hotchkiss, a coordinator with Studio DMI working to develop the new community. "We think this is pretty much the coolest thing ever!" Nik reiterated his excitement after seeing how involved the "allies" are already getting. "There really aren't many talent pools focusing on the careers of members that can offer what the Alliance does."
What exactly does the Alliance do for it's allies? After a quick browse of the Studio DMI website it's easy to see how deeply the company's connection in the music business reaches. According to the online description, the Alliance is a user community that shares information between members and extends industry connections to elevate careers. One unique facet of the mostly online network is allowing members to submit music for professional feedback before they choose to release the project. This works hand-in-hand with fostering the collaborative, creative environment SDMIA is cultivating. Since there are already so many talented and established DJ's using the service, the Alliance also serves as a potential record pool for exclusive tracks and pre-releases.
Some of the other more immediate benefits of being a member are access to archives of useful files. These range widely and seem to offer something for every stage of someone's music career. A few areas include downloadable contracts templates, DAW mix templates, custom Studio DMI plug-in presets (used on some of the biggest dance music songs), links to innovative plugins, tutorials, and discounts. Perhaps the most valuable privilege of membership is the bi-weekly interactive online Q&A sessions where members get to discuss and pick each others brains in a private group video-chat. For a complete list of Alliance benefits be sure to check their website Studio DMI Alliance. Nik stressed that although Studio DMI has an ambitious campaign to continuously add onto this platform, this benefit list is going to grow considerably as members contribute more connections and content.
When Studio DMI co-founder and lead engineer Luca Pretolesi was asked for his thoughts on the new user community, he proudly beamed "It is a place for people who have the passion, talent, and drive to put it all together. It is a place where artists, DJ's, and engineers can impact the music industry in their own way...without doing it alone."