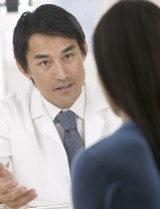 All these cases had a history of domestic or occupational exposure to chrysotile.
Raleigh, NC (PRWEB) July 10, 2015
Scientists in China and Japan found elevated rates of one of the rarest types of mesothelioma in women who worked in the Chinese textile industry. Surviving Mesothelioma has just posted the full story. Click here to read it now.
The study focused on 28 women diagnosed with mesothelioma at China's Yuyao People's Hospital between 2003 and 2010. More than two thirds of the women had peritoneal mesothelioma, a type of mesothelioma that affects the lining of the abdomen and typically accounts for about a fifth of mesothelioma cases.
"All these cases had a history of domestic or occupational exposure to chrysotile," reports lead author Zhibin Gao, MD, a pathologist at the Yuyao People's Hospital. "Two-thirds of the patients were from two adjoining towns with multiple small asbestos textile workshops."
The study in the American Journal of Industrial Medicine calls the unexpectedly high number of peritoneal mesothelioma cases an "over representation." There is no explanation as to why it occurred.
"This study is further evidence that asbestos is a threat to workers, regardless of the form in which it occurs," says Surviving Mesothelioma's Managing Editor, Alex Strauss.
For a more in-depth explanation of peritoneal mesothelioma and the results of the Chinese study, see Study Finds Peritoneal Mesothelioma More Common in Textile Workers, available now on the Surviving Mesothelioma website.
Gao, Zhibin et al, "Asbestos textile production inked to malignant peritoneal and pleual mesothelioma in women: Analysis of 28 cases in Southeast China", July 6, 2015, American Journal of Industrial Medicine, Epub ahead of print, http://onlinelibrary.wiley.com/doi/10.1002/ajim.22494/abstract
For nearly ten years, Surviving Mesothelioma has brought readers the most important and ground-breaking news on the causes, diagnosis and treatment of mesothelioma. All Surviving Mesothelioma news is gathered and reported directly from the peer-reviewed medical literature. Written for patients and their loved ones, Surviving Mesothelioma news helps families make more informed decisions.