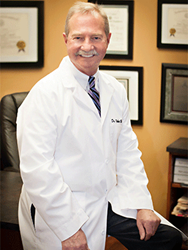 Racine and Burlington, WI (PRWEB) July 09, 2015
Individuals who have lost single or multiple teeth as a result of gum disease or accidents are invited to receive dental implants in Racine and Burlington, WI, from Dr. Robert Becker, who now utilizes Cone Beam technology for implant placement. This technologically-advanced implant placement method is quickly becoming a preferred treatment option by periodontists throughout the United States due to its speed, safety and high-quality images.
Dr. Becker is an experienced periodontist in the placement of implants, and he now offers this treatment with the additional assistance of Cone Beam technology. The Cone Beam imaging system is designed to increase patient safety by significantly reducing the amount of radiation they are exposed to during their treatment. In some cases, the Cone Beam imaging system exposes patients to up to 10 times less radiation than a traditional x-ray. In addition to its increased safety features, the Cone Beam system is also invaluable for the placement of dental implants in Racine and Burlington, WI, because it produces remarkably clear panoramic images in a very short amount of time. With the help of these images, Dr. Becker is able to clearly see the area where the implants will be placed, and plan the implantation process based on the location of nerves and other oral structures in the area.
While traditional x-rays can sometimes take several minutes to process, the Cone Beam imaging system produces 3-D images in a matter of seconds. Patients who do not want to spend unnecessary time at their dental implant consultation appreciate the speed with which the Cone Beam system produces images. This advanced imaging system may also save patients money, since it is less expensive to utilize than traditional x-ray machines.
Individuals with missing teeth who want to receive the most accurate and effective placement for dental implants in Racine and Burlington, WI, are invited to schedule an appointment with Dr. Becker. As a periodontist experienced in placing of implants, Dr. Becker is pleased to now utilize the safe and efficient Cone Beam Imaging system, as part of the implant placement process.
About The Doctor
Dr. Robert Becker is an experienced periodontist offering personalized dental care for patients in Racine and Burlington, WI. Dr. Becker is the founder of Lakeview Periodontal Associates and has been practicing dental medicine for over 30 years. Dr. Becker received his graduate and post-graduate degrees from Marquette School of Dentistry and his continued education in periodontics at Northwestern University Dental School. He has also studied Implantology at the prestigious Branemark Institute in Sweden, and is proud to have placed over 8,000 dental implants during his career. Dr. Becker is also a recipient of A Diamond Award, a prestigious recognition for being a Premier Nobel Biocare Provider. To learn more about the dental services Dr. Becker provides, please visit the website at http://www.teethin24hrs.com or call (262) 510-0414 for the Racine office or (262) 510-0381 to reach the Burlington office.