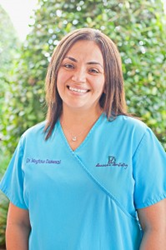 League City, TX (PRWEB) July 09, 2015
Patients who are suffering from the embarrassing and often painful side effects of receding gums in League City, TX, can now receive the Chao Pinhole® Surgical Technique from Dr. Meghna Dassani. Dr. Dassani is pleased to now offer this minimally-invasive gum graft alternative that allows patients to finally achieve a more beautiful smile without the pain associated with gum grafting processes.
Dr. Dassani is now qualified to perform the Chao Pinhole® Surgical technique on individuals with receding gums in League City, TX. This well-received gum graft alternative is becoming more popular nation-wide, as dental professionals and patients discover its many benefits. Those who receive traditional treatments for receding gums are often required to undergo painful gum grafting procedures, which require healthy tissue to be removed from one area of the mouth and transferred to another area. Once the tissue is transferred to the area affected by recession, it must be secured in place with unpleasant stitches that cause discomfort during normal actions, such as speaking and eating. Additionally, because many people experience gum recession in the front of their mouths, it can be embarrassing to have stitches located in such a prominent area.
The Chao Pinhole® Surgical Technique eliminates the embarrassment and discomfort of stitches because it is performed without the use of gum grafting techniques. Dr. Dassani performs the minimally-invasive procedure by first locating the receded area, then strategically creating a slight pinprick hole in the gums. Through this hole, she inserts specialized tools that assist her to gently loosen the connection between the gums and the teeth. Once this step is accomplished, she can easily maneuver the loosened gum tissue downwards over the surface of the teeth. Due to the speed with which the procedure can be completed, Dr. Dassani is able to treat multiple affected areas in each patient's mouth during a single office visit.
Patients who are looking for a minimally-invasive way to treat their receding gums in League City, TX, are encouraged to find out about utilizing the Chao Pinhole® Surgical Technique as a gum graft alternative. Dr. Dassani invites League City residents to schedule an appointment by calling her office during standard operating hours.
About The Doctor
Dr. Dassani is a gentle, caring dentist who uses the most advanced materials & procedures available. She practices comfortable, health-centered dentistry with a strong emphasis on getting to know each of her patients. In addition to her technical efficiency and skill, Dr. Dassani is a careful listener & will explain before treatment what options best work for your individual needs. In her spare time, Dr. Dassani enjoys reading, scuba diving, swimming and working in her herb and vegetable garden. Dassani received her doctorate from the Boston University Goldman School of Dentistry. She has since completed many continuing education courses, including those in Misch Implant Institute Invisalign®, and Spear Center. Dr. Dassani is a member of International Congress of Oral Implantologists, the Academy of General Dentistry, Academy of General Dentistry, and the American Dental Association. Dr. Dassani was born & raised in Mumbai, India. When she married Rahul, they agreed the Clear Lake Area would be a wonderful place to work & raise their family. Dr. Dassani loves being outdoors with her husband & two young girls and can be found exploring the outdoors on most Saturday mornings. They are excited to be a part of the community. She is an avid learner & loves seeing a variety of people from every walk of life in the practice. She looks forward to your visit & to showing you the current ways dentistry can improve your life. To learn more about the services offered at Dassani Dentistry, please visit the website at http://www.dassanidentistry.com or call (281) 488-4617.