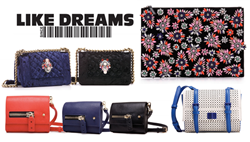 Los Angeles, CA (PRWEB) July 10, 2015
The rising handbag line, Like Dreams hosted an exclusive event with select fashion bloggers at their DTLA Headquarters. The diverse label made a special announcement that an exclusive collection of popular bags and sandals chosen by the bloggers will be made available to purchase on http://www.amazon.com across the country launching July 10. Amazon customers have 24/7 online access to shop a blogger-curated collection ranging between $50-$200 USD. Like Dreams intentionally selected top fashion influencers to provide style expertise.
Like Dreams sources unique fabrics with a wide variety from rustic vintage velvet looks and hand-beaded envelope clutches to soft vegan leather satchels. Styles created utilize the full range of earthy and inimitable colors, enhancing the individual pieces for any occasion.
The event held at the Like Dreams Inc showroom entailed a presentation of the entire collection of Like Dreams bags hosted by Good, Bad and Fab blogger Jenny Wu. Bloggers chose their favorite 3 handbags, which will be exclusively sold on Amazon. Influencers took to their social media pages inviting their followers to join in on the selection process. Bags with the winning SKUs will be released Friday July 10, 2015. To shop further styles, you can view the Like Dreams look book at http://www.ilikedreams.com.
ABOUT LIKE DREAMS: Endeavor to create a sense of independence with their line, where each concept is drawn from a wide array of inspiration in every day practical living enhancing independent pieces. The go-to label outlines both daring fashionistas and women who prefer the timeless classic chic look - selling successfully to US Retailers like Nasty Gal, Kitson, and Dolls Kills. Like Dreams handbags are offered at an affordable price point ranging from $50-$200 USD.