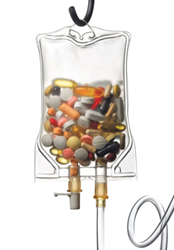 "At Whole Life Balance we believe that you must treat the whole person not the symptoms"
Los Angeles, CA (PRWEB) July 15, 2015
Whole Life Balance with Vitamin Drip iv Therapy, a leader in cutting-edge holistic care, is pleased to announce the opening of its first Westside location in the heart of Santa Monica, California. Located across from Whole Foods at the intersection of 5th and Wilshire, the new site will be easily accessible by foot and is primed to become an epicenter of holistic care.
"Our mission has always been to provide the highest level of care for our clients across the board," said Shane Griffin, Founder and CEO of Whole Life Balance with Drip iv Therapy. "We are taking over a space formerly utilized by a high-end luxury spa, and will be offering a plethora of holistic services in the most comfortable and serene environment."
Whole Life Balance Holistic Wellness will be offering highly individualized treatment plans, focusing on utilizing the following treatment modalities: advanced Nutritional Consulting, yoga, Aerial Yoga, Pilates, Massage Therapy, Fascial Stretch Therapy, Personal Training, Acupuncture, Physical Therapy and Vitamin drip IV therapy.
"Whole Life Balance will be one of the only health and wellness centers on the Westside offering vitamin drip IV therapy," continued Griffin. "This unique value add for our clients will be a key differentiator for us in a market space saturated with similar service offerings."
While focusing primarily on highly individualized care, Whole Life Balance will also be offering group classes for yoga and Pilates several nights per week.
For more information, please visit http://www.wholelifebalance.com.
Source: Whole Life Balance with Vitamin Drip iv Therapy
Media Contact: Shane Griffin / (888) 570-5714 / shane(at)wholelifebalance(dot)com