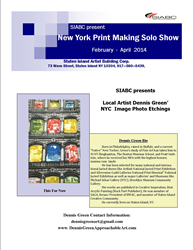 "Dennis Green is among America's top artists"
Staten Island, New York (PRWEB) July 23, 2015
Boulevard Books announces the publication of the original color etchings of NYC by artist, Dennis Green. Mr Green, who earned his MFA (suma cum laude) in printmaking from Pratt Institute and a BA in painting from SUNY Binghamton, has teamed up with Boulevard Books to release a book of color etchings and insights in a series that spans his career as a printmaker, from Bob Blackburns Printmaking Workshop in the 80's, to the present day.
Dennis Green has exhibited at the Michal Inbar Gallery (NYC), New House Center of Contemporary Art (Staten Island, NY), The Barret Art Center (Poughkeepsie,NY), Artlink Contemporary Gallery (Fort Wayne, IN), Silvermine Guild Gallery (New Cannan, CT), India Gandhi National Center for the Arts (India), Akademi der Bildenden Kunst (Austria), Facultad De Bellas Artes (Spain), Seoul Print Workshop Gallery (Korea) and more.
Boulevard Books is a publishing company by writers for writers. Founded in 2010 by author and educator, Avi Gvili, our aim is to develop the artist from the initial submission of a manuscript to its fully realized final book form. Worldwide distribution follows in hard copy as well as across every digital platform available today in 39,000 outlets and libraries.