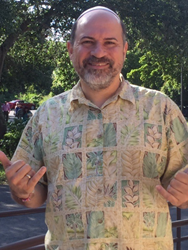 This is an exceptional group and they will serve their communities well."
New York, NY (PRWEB) July 15, 2015
Jewish Spiritual Leader's Institute (JSLI) , the Online Rabbinical School of Sim Shalom, held its ordination ceremony on Saturday evening in Delray Beach, Florida. Ten new rabbis will now begin their respective missions and service as teachers and spiritual leaders - some advancing the tenets of Jewish Universalism. This new group realizes 91 rabbis ordained by JSLI and they hail from all over the United States including Hawaii, Colorado, Pennsylvania, New York, Florida, Oklahoma, and Massachusetts.
Each of the ten candidates were granted semicha by the Bet Din as part of the joyous occasion. The Hebrew meaning of semicha (certificate of ordination) is literally a "leaning of the hands." Within the context of rabbinical ordination, its connotation is that of a "transmission" of rabbinical authority – enabling the holder to give advice or interpretation of Jewish law. The classical line of semicha traces a line of Torah conferment back to Moses.
Rabbi Steven Blane began JSLI in 2009 in response to the growing needs of the unaffiliated and disaffected Jews. JSLI alumni are currently serving worldwide in congregations, as pastoral counselors, and as Jewish educators. They perform a full panoply of Life Cycle events – including weddings, funerals, and bnai mitzvoth.
The ordination/Shabbaton weekend is the first time the students meet one another after studying online together weekly. They do pre course work via a learning management system and meet over video conferencing, discussing topics from their varied and multi denominational points of view and giving a D'var each week to their classmates. "There is an incredible synergy created as part of this intimate learning style. This is an exceptional group and they will serve their communities well, " notes Rabbi Blane.
About Sim Shalom and JSLI
Sim Shalom is an interactive online Jewish Universalist synagogue which is liberal in thought and traditional in liturgy. Created in 2009 by Rabbi Steven Blane on Manhattan's Upper West Side, Sim Shalom offers a means of connecting the unconnected. Rabbi Blane leads accessible and short Kabbalt Shabbat services every Friday night using a virtual interface and additionally Sim Shalom provides online education programs, Jazz concerts, conversion and life-cycle ceremonies along with weeknight services at 7:00PM EST led by Rabbis and students of this online community.
Rabbi Blane is also the founder and director of the Jewish Spiritual Leader's Institute,
http://www.jsli.net, the online professional rabbinical program.
Sim Shalom, a non profit 501 © (3) tax-exempt organization, nurtures a Jewish connection through its mission of innovative services, creative education and dynamic outreach to the global community. For more information visit http://www.simshalom.com or call 201-338-0165.