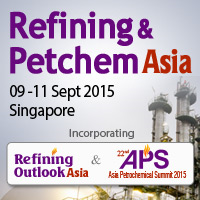 Refining Outlook Asia will explore capacity expansion in Asia amidst falling global crude oil prices.
Singapore (PRWEB) July 15, 2015
Given the immense capacity expansion, Refining Outlook Asia will open with a session on 'Impact of a New Wave of Refining Capacity Additions (Asia and the Middle East) on Margins' by Stephen George, Chief Economist, KBC Process Technologies. This session will be followed by Clive Gibson, Principal Consultant, Nexant Asia sharing his perspective on 'Outlook for Asian Refined Product' outlining the influence of the big four players in the Asian refinery scene: China, India, Japan and South Korea as well as the regional developments in South East Asia.
Major refiner Essar Oil's Managing Director – Lalit Gupta will present an important presentation on 'Oil Mix Optimisation, Blending, Storage & Processing'. As biodiesel gains increased adoption in various Asian countries, a key session on 'Economics of Bio-Diesel Production vis-à-vis Current Oil Market' by Immanuel Sutarto, President Director, PT Eterindo Wahanatama will highlight the strategies and opportunities in renewable energy, especially Indonesia's demand and trade outlook for bio-diesel.
The agenda includes a Discussion on 'Strategies to Remain Competitive in a Low Crude Price Environment' by panelists comprising Sushant Gupta, Director, APAC refining, Wood Mackenzie; Steven Kantorowicz, Sr. Vice President, CIMES; Stephen George, Chief Economist, KBC Process Technologies and Lalit Gupta, Managing Director, Essar Oil.
Delegates of Refining Outlook Asia can also look forward to the below sessions:

Refinery Development that Meet Asset Management Standard ISO 15000 - Dempsy Robby Kambey, General Manager, PT Kreasindo Resources Indonesia
Harmonisation of Fuel Quality and Standards for Transportation Fuels and Biofuels in ASEAN – Dr. Ruengsak Thitiratsakul, Deputy Executive Director, Petroleum Institute of Thailand
Implementation of High Efficiency Compact Plate Heat Exchangers within Refinery Process Units – Marcelo Kascheres, Business Development Manager, Alfa Laval
US & Asia Ethane Trade – Activity, Outlook & Challenges – Yuanbo Tang, Head of LPG Trading Asia, Cargill Asia Pacific Holdings
Global Crude Oil Outlook: How far is the Recovery? – Vima Jayabalan, Vice President (Energy, Strategy & Research), Castleton Commodities Intermational (CCI)
PDH Projects Updates in Asia & LPG's Feedstock Economics – Steven Kantorowicz, Sr. Vice President, CIMES
Tank, Terminal & Oil Storage Investments in the Region – Tan Wooi Leong, Vice President (Oil & Gas), JURONG International Holdings
Refining Outlook Asia will be held in conjunction with CMT's annual 22nd Asia Petrochemical Summit (10-11 September, 2015) as part of the umbrella conference Refining & Petchem Asia.
View event website for information.
Alternatively, contact Ms. Huiyan at +65 6346 9113 for more details.