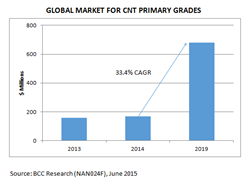 The global market for CNT primary grades is expected to reach $670.6 million in 2019
Wellesley, Mass. (PRWEB) July 10, 2015
Wellesley, Mass., July 10, 2015 – Until quite recently, carbon nanotubes (CNTs) were available in very limited quantities at exorbitant prices that catered primarily to the research community. BCC Research reveals in its new report this dynamic material is now becoming available in large-scale quantities at annual production capacities. Correspondingly, unit costs have plummeted, promising market breakthroughs and further lower costs during the forecast period.
The global market for various CNT grades—commodity multiwall nanotubes (MWNT), specialty single-wall carbon nanotubes (SWNTs) and few-wall carbon nanotubes (FWNTs)—reached about $158.6 million in 2014. Projected to grow at a five-year compound annual growth rate (CAGR) of 33.4%, the market should total about $670.6 million in 2019. MWNT revenues in 2019, stunted by slow commercial adoption and oversupply, should be eclipsed by SWNT and FWNT revenues. This projected forecast represents a conservative estimate tempered by several important factors detailed in the report.
Among the numerous categories in the evolving field of newly synthesized nanomaterials, CNTs are perhaps among the most dynamic and undergoing the most rapid pace of development. The past 15 years have witnessed relentless growth in the research, development, and technological understanding of these remarkable materials. As a result, the list of product applications is expanding considerably and is projected to do so well into the future.
"The CNT-polymer composites market is by far the largest product consumer of commodity-grade multiwall carbon nanotubes (MWNTs). It has the potential to expand significantly," says BCC research analyst John Oliver. "This is spurred by the promise of increased lightweight-strength and exceptional electrically conductive characteristics of CNTs used, for example, in automobiles, sports equipment, and wind turbines. For these applications, uniform dispersion of MWNTs in the host matrix material will be especially critical. Eventually, further impetus is expected from the looming possibility of penetrating the aerospace and military sectors."
Global Markets and Technologies for Carbon Nanotubes (NAN024F) analyzes the emerging CNT industry based on data from 2013, estimates for 2014, and projections of CAGRs through 2019. Market drivers, restraints, and opportunities, along with global market trends and technical readiness of CNTs also are discussed.
Editors and reporters who wish to speak with the analyst should contact Steven Cumming at steven.cumming@bccresearch.com.
About BCC Research
BCC Research publishes market research reports that make organizations worldwide more profitable with intelligence that drives smart business decisions. These reports cover today's major industrial and technology sectors, including emerging markets. For more than 40 years we've helped customers identify new market opportunities with accurate and reliable data and insight, including market sizing, forecasting, industry overviews, and identification of significant trends and key market participants. We partner with analysts who are experts in specific areas of industry and technology, providing unbiased measurements and assessments of global markets. Recently selected as the world's greatest market research company, BCC Research is a unit of Eli Global, LLC. Visit our website at http://www.bccresearch.com. Contact us: (+1) 781-489-7301 (U.S. Eastern Time), or email information@bccresearch.com.