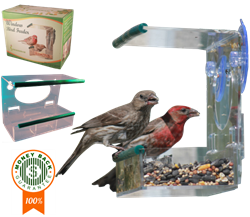 With a detachable tray, Sherwoodbase Window Bird Feeeder help birds in drought-stricken areas of the U.S. benefits for people suffering from Alzheimer's disease.
San Ramon, CA (PRWEB) August 04, 2015
Sherwoodbase has announced the launch of the Window Bird Feeder, with a detachable tray, that can help birds in drought-stricken areas of the U.S.. Customers have also reported benefits for elderly parents and grandparents suffering from ailments such as Alzheimer's disease. The product has a see-through design letting observers watch birds eat and drink. Seeds are placed on the top cover and there is also a compartment for water. Two layers feature bird perches while the unit is made of a durable acrylic that can withstand all types of weather.
With two compartments, the feeder is helpful for birds in areas of the U.S. where drought has been persistent. Heat and a lack of water and food is putting a strain on avian creatures. The problem has been especially severe in the western U.S., where exceptional drought has plagued California and other western states. More localized water shortages are being seen in southern states and the Northeast.
The Window Bird Feeder is therefore able to sustain birds near the user's home until conditions improve. It also has several other features and benefits, including:
1 A design allowing it to be installed on a screen-free window.
2 A detachable tray that allows quick cleaning and refilling.
3 Two sturdy suction cups plus two additional spares in the box.
4 Scratch resistance providing a clear view of active birds.
5 Squirrels cannot climb the glass and threaten the birds.
Also Great for People
For the person who likes to watch birds, the Sherwoodbase Window Bird Feeder can be a gift for a grandparent or elderly parent. It can be especially soothing for those with Alzheimer's disease and other ailments. In fact, the company reports many customers have said such individuals were enjoying the sights of birds flying around their window and hanging around.
Warrantied for Life
The bird feeder comes with a 100% lifetime warranty. Also, the company promises to replace it if there's an accident during installation. A detailed instruction sheet is included in the box and shows how to install and use the product. The product is 5.9 x 3.9 x 5.2 inches in size.
Bird watchers are encouraged to Like Sherwoodbase's Page on Facebook to join the growing community of bird watchers that receive bird watching tips and product news. For more information about the product, go to the Window Bird Feeder product page on Amazon. The founder of Sherwoodbase company that created the Sherwoodbase Window Bird Feeder, says that sales have taken a dramatic leap since their product video for the window bird feeder was released on YouTube last week.
About Sherwoodbase
Sherwoodbase is a retailer and startup company that sells quality products for wildlife creatures. It sells the Window Bird Feeder with a detachable tray, available at the Patio, Lawn & Garden department on Amazon.com.