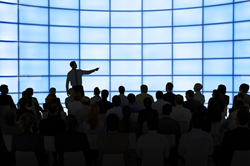 Being able to present yourself to a group is an important skill, and once you have developed it, there is no limit to where it can take you
London, England (PRWEB UK) 13 July 2015
London School of Marketing, a leading institution offering accredited marketing and business qualifications in the heart of London, has published an article about the necessity of strong presentation skills to inform, persuade or motivate an audience.
"As Marshall McLuhan famously said, the medium is the message. What you say is fundamentally affected by how you say it - and marketers more than anyone know that this is true," the article states. "Strong presentation skills are crucial for transmitting the points you want to get across. These skills take practice to master, but once you have them they will set you in good stead for all of your marketing communications."
Complementing a comprehensive range of blogs, whitepapers and case studies designed to support students pursuing sought-after marketing, business and academic designations, this article details key areas a marketer should focus on to deliver an effective presentation, including thorough research, a deep understand of the audience, and the ability to deliver it with confidence.
"Many find public speaking a daunting task. However, being able to present yourself to a group is an important skill, and once you have developed it, there is no limit to where it can take you," the article concludes.
Click here to read the full article.
London School of Marketing delivers accredited marketing and business qualifications, and offers courses from recognised professional bodies such as CIM, EduQual and CAM, BA (Hons) Marketing, MA Marketing and Innovation, and an MBA from Anglia Ruskin University. Based in Central London, they are a QAA approved institution. The school also has offices in Sri Lanka, a network of Local Access Points (LAPs), and online programmes of learning. Courses are run over a broad range of study modes.