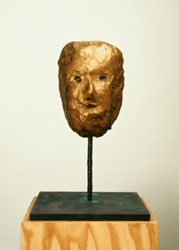 Artists who work outside the concepts of modern times
Düsseldorf, Germany (PRWEB) July 10, 2015
The upcoming exhibit "Avatar and Atavism. Outside the Avant-Garde" highlights a movement similar to "Outsider Art" – but rather than art created by people outside the mainstream art world, like children or the mentally ill, the show features artists who work outside the concepts of modern times.
Many of the works embody expressions that only became acceptable in art during the post-modern movements after 1978, such as irony, obsession, and narrative. The depiction of body parts and references to animal life and characteristics, for example, are common elements in art from the1980s, and the exhibit highlights these elements and references to those years, which are sometimes called the "wild decade."
Featured artists include Francesco Clemente, Walter Dahn, Martin Disler, Georg Jiri Kokoupil, Siegried Anzinger and Alfred Klinkan, as well as Franz West, Rosemarie Trockel, Günther Förg – all of whom use their art to create "avatars" – creatures or objects that channel the spirits of artists from previous generations, such as Louise Bourgeois, Maria Lassnig, Goerg Baselitz and Bruce Nauman.
The exhibit is open August 22 – November 08, 2015.
For more information on the exhibit, visit http://www.kunsthalle-duesseldorf.de.
For more information on Düsseldorf as a travel destination, visit http://www.visitduesseldorf.de.
Düsseldorf's tourism office is offering hotel and city specials for stays in 2015. The package, called "Düsseldorf à la Card," can be booked right from the tourism office's website at https://www.duesseldorf-tourismus.de/en/accommodation/hotel-packages/duesseldorf-a-la-card/. Prices start at €49 per night per person based on double-occupancy for a 2-3-star hotel in the city center and at €95 per person for a 4-star hotel. The package includes breakfast, one DüsseldorfCard (free public transportation within city limits plus 30 free or reduced admissions to city attractions), and a city information package. Please check the website for current information.
# # #
Düsseldorf Marketing & Tourism GmbH is the visitors and convention bureau of the city of Düsseldorf. Its responsibilities include tourism and city marketing, as well as conference and meeting marketing, hotel reservation services, fairs and convention services, city event ticket sales and advance ticket reservations. For more information, visit http://www.visitduesseldorf.de.
Düsseldorf Airport, Germany's Next Generation HubTM, offers several non-stop flights from US cities (Atlanta, Chicago, Ft. Myers, Los Angeles, Miami, New York, Newark), as well as convenient connections to many European cities. For more information about the airport, visit http://www.dus.com.