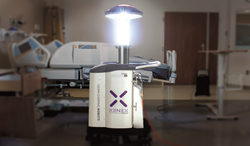 "More than 200 people die in the U.S. every day from an infection they acquired during their hospital stay. We have repeatedly proven that we can help hospitals stop these infections," said Morris Miller, CEO
San Antonio, TX (PRWEB) July 10, 2015
Xenex Disinfection Services announced today that it was the recipient of the 2015 Small Business Leaders Award for Business Innovation from the North San Antonio Chamber of Commerce.
Hospital acquired infections (HAIs) caused by microorganisms like MRSA (methicillin-resistant Staphylococcus aureus) and Clostridium difficile (C. diff) kill more than 75,000 people in the U.S. every year. Current CDC statistics show that one in every 25 patients in the U.S. will contract an HAI and of those, one in nine will die. HAIs cost the healthcare industry more than $30 billion annually.
Xenex's innovative Germ-Zapping Robots™ are helping hospitals stop HAIs by reducing the bacterial load in hospitals that is often associated with an increased risk for infections. Designed for speed, ease of use and portability, the Xenex pulsed xenon Full Spectrum™ ultraviolet (UV) room disinfection solution pulses intense UV light that destroys viruses, bacteria and bacterial spores in a five-minute disinfection cycle. Since its commercial launch in June 2010, Xenex room disinfection robots are now included in infection control protocols in nearly 300 hospitals, Veterans Affairs, DoD, skilled nursing facilities, ambulatory surgery centers and long-term acute care facilities throughout the U.S. and Europe.
"More than 200 people die in the U.S. every day from an infection they acquired during their hospital stay. We have repeatedly proven that we can help hospitals stop these infections, and we are honored to be recognized by the North San Antonio Chamber of Commerce for our innovation in healthcare," said Morris Miller, CEO of Xenex. "People should not have to worry about contracting infections when they go to the hospital because we are proving that it's possible to stop them, which is a major step forward for patient safety."
Guaranteed to Stop Infections
Xenex offers the only UV disinfection technology shown, in peer reviewed published studies, to effectively reduce HAI rates. As evidence of the Xenex robot's efficacy continues to mount, Xenex recently announced an HAI Reduction Guarantee, a new program designed to quickly integrate Xenex robots into healthcare facilities. The HAI Reduction Guarantee provides up to a full refund if in the first 12 months of use, customers do not achieve an infection rate reduction sufficient to produce savings to cover the annualized cost of acquiring and operating Xenex robots.
Only UV Disinfection System Proven to Reduce HAI Rates
MD Anderson Cancer Center, the Central Texas Veterans Health Care System, Cooley Dickinson Health Care (an affiliate of Massachusetts General Hospital and Partners HealthCare System) and other hospitals have published 11 studies providing evidence of the Xenex robot's efficacy in highly regarded scientific journals that include the American Journal of Infection Control (AJIC), Journal of Infection Prevention, Infection Control & Hospital Epidemiology (ICHE) and BMC Infectious Diseases. Hospitals that purchased Xenex robots have reported greater than 50 percent decreases in MRSA and C.diff infection rates in peer-reviewed literature, documenting how they used the Xenex robot in their real-world hospital environment to reduce infection rates.
According to the North San Antonio Chamber of Commerce, the Business Innovation Award is given to a company that has demonstrated outstanding creativity in its development of a new product or service, or in differentiating an existing product or service in a unique manner.
About Xenex Disinfection Services
Xenex's patented Full Spectrum™ pulsed xenon UV room disinfection system is used for the advanced disinfection of healthcare facilities. Due to its speed and ease of use, the Xenex system has proven to integrate smoothly into hospital cleaning operations. The Xenex mission is to save lives and reduce suffering by eliminating the deadly microorganisms that cause HAIs. The company is backed by well-known investors that include Brandon Point/Malin Corporation, Battery Ventures, Targeted Technology Fund II and RK Ventures. For more information, visit xenex.com.
About the North San Antonio Chamber of Commerce
Founded in 1974, the North San Antonio Chamber of Commerce strives to provide growth for the city of San Antonio beyond downtown. Its mission is to strengthen member businesses and the community through the delivery of advocacy, networking, recognition, leadership and professional development programs. Visit northsachamber.com for more information.
###