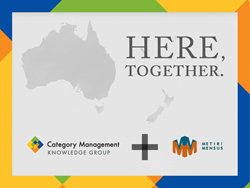 Our training will help Retailers and Manufacturers move to a more strategic, fact-based approach in their business.
Calgary, Canada (PRWEB) July 13, 2015
Category Management Knowledge Group (CMKG) today announced it has entered into a partnership with Metiri Mensus to offer custom blended learning solutions in category management, data and analysis to organizations locally in Australia and New Zealand. CMKG is known in the Retail, CPG and FMCG industries for high quality, certified category management training with a blend of online, hands-on and live training.
"We are very excited to work with Metiri Mensus," said Sue Nicholls (President, CMKG). "Teaming up with Metiri Mensus to provide custom solutions to Retailers and Manufacturers in Australia and New Zealand is an exciting development for our company and will enable us to expand into new regions of the world in a local way.
"This partnership reflects our desire to collaborate with companies that share our vision of building capability and capacity to organizations to meet the needs of the changing industry and Shopper. Metiri Mensus offers retail merchandising solutions throughout Australia and New Zealand. Their wealth of experience and working knowledge of the retail and manufacturing industries in these regions provided the perfect "fit" for both of our organizations. We will collaborate together to determine the best training solutions based on the uniqueness of each customer."
About Category Management Knowledge Group
Founded in 2002, CMKG is a category management training company that is known for its blended learning solutions, including online, case studies, webinars and live training. The company's mission is to deliver a value-added, dynamic learning experience to every client and student that yields increased knowledge, skill, expertise and competitive advantage. In everything they do, their goal is to spread passion for category management and continuous learning. CMKG currently serves over 100 clients (primarily in North America) and was the first company in the world to have their training certified by the Category Management Association. They continue to play an active role in sharing their learnings with the industry through social media, blogs and free webinars.
About Metiri Mensus
Founded in 1994, Metiri Mensus is an innovative and dynamic software distribution and services organization. Their company's mission is to be their customers number one business partner in the efficient use of category and space management processes to maximise their customers own product's potential. With their wealth of experience and working knowledge of the retail and manufacturing industries, combined with their technical capabilities, products and services, they are able to offer their clients assistance in the practical integration of Category, Range and Space Management and Visual Merchandising solutions to their business.
Click here to register for a live webinar on August 19th where CMKG will be facilitating a training session on "Category Management" for Australia and New Zealand.
To learn more about CMKG: LinkedIn Company Page
For more information please contact:
Sue Nicholls, President
Category Management Knowledge Group
Suite 210, 1829 Ranchlands Blvd NW
Calgary, AB CANADA T3G 2A7