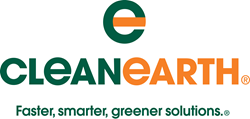 Hatboro, Pennsylvania (PRWEB) July 13, 2015
Clean Earth, Inc. a leader in recycling contaminated soils, dredge material, drill cuttings, and hazardous waste announced today that the company ranks # 23 on the Waste 100 List of 2015 according to the Waste 360™ publication.
Chris Dods, President & CEO of Clean Earth, Inc. states, "Everyday our company takes a hands on, dedicated approach to recycling 98% of the material we process. We have planned for growth and will continue to bring new services and locations online that provide unique, high quality services to numerous markets."
In the fourth quarter of 2014 Clean Earth added one new office and two new treatment facilities to its portfolio that expanded hazardous waste disposal services nationwide.
To learn more about Clean Earth visit us at http://www.cleanearthinc.com or call 877.445.DIRT (3478).
About Clean Earth, Inc.
Clean Earth Inc. is one of the nation's largest specialty waste companies providing recycling and remediation services to energy, infrastructure, commercial and industrial customers along the East Coast of the United States. Headquartered in Hatboro, Pa., it operates a network of 14 full-service facilities servicing the United States, and handles nearly four million tons of material annually. Approximately 98% of the material processed at Clean Earth facilities is recycled.