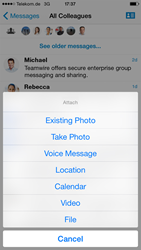 Secure enterprise messaging and secure file sharing in one app.
Munich, Germany (PRWEB) July 13, 2015
Teamwire - a secure enterprise messaging app - today announced an integration with Box for enterprise-grade file sharing. With the new Box integration Teamwire users can easily share documents and files of any kind.
The integration allows for direct access, fast sharing and immediate viewing of all files of Box from within the Teamwire app. In this way file sharing saves the user considerable time and clicks, and provides a beautiful user experience. As a result enterprises can accelerate workflows, improve the collaboration and increase their productivity.
Similar to sharing a photo or a location on popular messaging apps, Teamwire users can now share a file with just a few taps. The secure messaging app even enables users to send multiple files at once to a single person or a group of people.
The Box file sharing integration was built for speed. On the one hand it allows fast, high-quality rendering of business content within the Teamwire app. On the other hand it enables users to directly view documents within the enterprise messaging app without the need to download the entire file.
"Teamwire is proud to be a member of Box's thriving ecosystem of third party developers, who constantly try to improve the productivity and competitiveness of businesses across all industries and sectors," said Tobias Stepan, founder and CEO of Teamwire. "The Box integration enables secure enterprise messaging and secure file sharing in one app."
Teamwire is now listed in the Box app marketplace. The Box file sharing integration is available in the new releases of the Teamwire app for iOS and Android.
About Teamwire
Teamwire is a fast, easy to use and secure enterprise messaging app. Teamwire improves the internal communication with colleagues and teams, and increases the productivity of businesses and large corporations. Users can send 1:1 and group messages, post status updates to teams, exchange video and voice messages, and share calendar dates, files and much more with colleagues. Teamwire fully complies with strong German and European data protection needs and is a completely encrypted solution. The service can be easily managed for the whole enterprise and ensures company-wide compliance. Teamwire is available as a cloud or an on-premise solution.