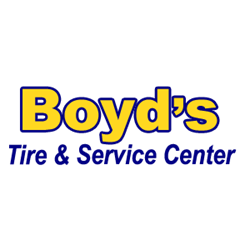 Saturday, July 25, 2015, Boyd's Tire and Service Center will be involved in charitable causes once more as they sponsor the 9th Annual All About Autism Car, Truck and Motorcycle Cruise-In. The event, held at Quaker Steak and Lube in Columbus
(PRWEB) July 13, 2015
Boyd's Tire and Service Centers have proudly been engaged in charity and philanthropic works around the greater Columbus, OH area throughout the lifetime of the business. Causes like the American Cancer Society, Recreation Unlimited and the NBC4 BowlAThon have all been a central focus for Boyd's Tire and Service Center's various fundraising events, as well as local schools, donating as much as 15 percent of sales. Boyd's Tire and Service Center is also the proud recipient of national aftermarket parts distributor Mighty Auto Parts' "Mightiest of the Mighty" award, making them one of only three recipients of the recognition nationwide. Store manager Mike Hoover has taken the Boyd's fundamental investment in the community one step farther by setting up The Make It Fit Foundation, to invite local communities to participate in efforts supporting research and programs for autism.
On Saturday, July 25, 2015, Boyd's Tire and Service Center will be involved in charitable causes once more as they sponsor the 9th Annual All About Autism Car, Truck and Motorcycle Cruise-In. The event, held at Quaker Steak and Lube in Columbus, begins at 11:00 a.m. (rain date of July 26). A $20 registration fee is required for entries, with proceeds going through The Make It Fit Foundation to autism-related charities and therapy providers such as Stockhand's Horses for Healing, The Autism Society Of Ohio, Recreation Unlimited, the Lettuce Work Foundation, providing iPads and other needed items for Schools and Therapy Providers that specialize in autism, funding swimming lessons for kids with autism through the YMCA, and many more.
In the past, funds have also gone to The Ohio State University, Give Children The World, The Ingram Autism Research Fund, and Autism Speaks to name a few. Additionally, The Make It Fit Foundation is currently working with The Ohio State University on a large scale research study to prove the neurological, physical, and mental benefits of a clean, healthy, diet and the use of probiotics. These 2 events will help them to get closer to the $350,000 needed to complete the study and ultimately help people with autism worldwide.
The Cruise-In will feature food and drinks, music, kid's activities and more, and will include T-shirts, trophies, raffle items, dash plaques for the first 100 entries and People's Choice judging. Sports cars, classic cars, trucks, muscle cars, tuner/sport compact cars, low riders, exotics and motorcycles are all welcome at this fun and inclusive event. General admission for non-entrants is free.
Innovations like horse and animal therapy, iPads for nonverbal children, seminars on proper nutrition and others have all been proven to help those with autism, and Boyd's Tire and Service Center is proud to host this fun event to raise funds for opportunities like these.
Boyd's Tire and Service Center is a family-owned tire and automotive repair service company, with seven locations in the greater Columbus, OH area. Boyd's features premium-brand tires and automotive repair services such as engine diagnostics and repair, oil changes, electrical work, brake service, wheel alignment, transmission repair and more. Boyd's Tire and Service Center has been providing these services since 1996, with top-notch customer service and expert work.
The website for Boyd's Tire and Service is maintained by TCS Technologies. TCS, an ARI company, develops and supports an innovative suite of point-of-sale and business management software, eCommerce websites, digital marketing services and data-as-service products designed exclusively for dealers, wholesalers, retreaders and manufacturers within the automotive repair, tire and wheel verticals. TCS is the industry's only complete technology provider, with a platform that outperforms the competition through its seamless integration and superior functionality. For more than 20 years, TCS has provided customers with the best customer support in the industry, giving them the tools they need to build a stronger, more loyal customer base and ultimately a strong ROI.