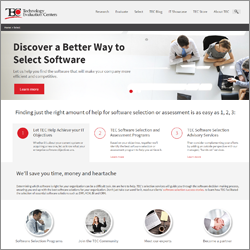 "Every year billions of dollars are wasted buying the wrong software solutions. We aim to help companies avoid this kind of negative outcome with best practices we've developed over the years." -- Lorne Goloff, VP of Software Selection Services at TEC.
Montreal, Quebec (PRWEB) July 13, 2015
Technology Evaluation Centers (TEC) is pleased to announce that its newly designed software selection website is now live. The new section on TEC's website details best practices and the methodology used by TEC's software selection experts and features case studies from companies who have successfully selected the best-fit software for their organization with TEC's assistance.
Organizations looking to assess their current software systems or acquire a new one can read more about the programs and services TEC offers to assist them in succeeding in their IT objectives. Best practices and methodologies to help reduce the risk, costs, and time associated with selecting or assessing software have been developed by TEC's software selection experts over the past 20 years.
The demand for assistance with a software selection or assessment project has been steadily increasing in recent years. Every year, billions of dollars are wasted on software solutions that do not effectively support an organization's needs. Visitors can gather information and make use of the online tools and services on the TEC website, most of which are provided free of charge, and can also talk to a TEC software selection consultant for more specific questions or advice.
Lorne Goloff, vice president of TEC software selection services, says, "So many companies end up with the wrong software that we've created a whole range of programs based on lessons learned and best practices to help them avoid that kind of negative outcome. Our new software selection site details this information and hopefully is the starting point for organizations on the path to a successful software selection."
TEC's software selection and assessment programs include the following:
1) Software Capabilities Program— delivers a clear picture of how well an organization's software is supporting its business, and whether a new system implementation is required.
2) Standard Evaluation Project—helps organizations define and prioritize their functional and technical requirements and compare potential solutions to see which one best supports their needs.
3) Custom Evaluation and Selection Project—allows organizations to examine and compare software solutions at a granular level before committing to a software acquisition.
4) Extended Evaluation and Selection Project—enables organizations to determine how well different software solutions support their requirements, including features and functions, total costs, and support system.
5) Software Architecture Lifestyle Management—helps organizations blueprint their overall enterprise software system(s) to pinpoint gaps and redundancies and determine resource requirements to be able to take a structured approach to optimizing their overall system.
For information on TEC's software advisory and selection services, contact +1 514-954-3665, ext. 404, or e-mail selectionservices@technologyevaluation.com.
About Technology Evaluation Centers (TEC)
Technology Evaluation Centers (TEC) is the world's leading provider of software selection resources, services, and research materials, helping organizations evaluate and select the best enterprise software for their needs. With its advanced decision-making process and software selection experts, TEC reduces the time, cost, and risk associated with enterprise software selection.
Over 3.5 million subscribers leverage TEC's extensive research and detailed information on more than 1,000 leading software solutions across all major application areas. TEC is recognized as an industry-leading software selection advisory firm offering resources and services both online and onsite. For more information, please visit http://www.technologyevaluation.com.